Craft Cocktail Soiree w/Celebrated Mixologist Shannon & Chef Ricky Mungaray
About this Event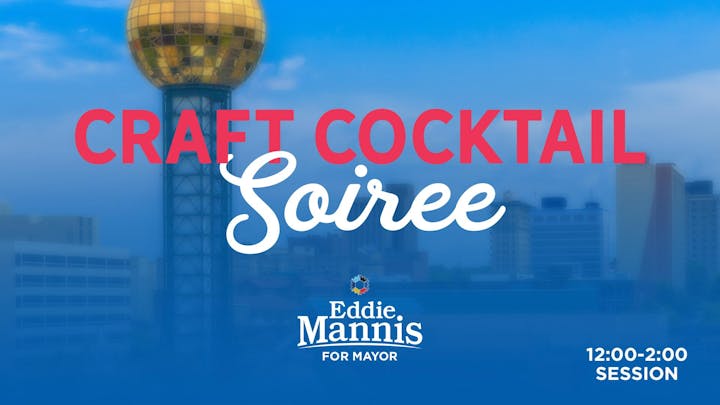 SESSION 1 (12:00-2:00pm)
Join Eddie Mannis at the beautiful home and gardens of Laura and Michael Yaros for an afternoon of curated craft cocktail making instruction by celebrated New York City Mixologist Shannon Beck (Joe's Pub and The Library at The Public Theater) with passed canapés and a market table provided by Chef Ricky Mungaray (Compere Lapin, Joe's Pub and The Library) with music by Kaylyn Marie Scardefield and Angela Travins.
MIXOLOGIST, SHANNON BECK: Shannon combines her artistic nature with Mixology while serving as Head Bartender at The Library at The Public, Joe's Pub and The Public Theater. She has been involved in the Hospitality industry for over 20 years. Prior to joining the team at Joe's, she had a 7 year tenure at Blue Fin in The W Hotel Times Square. Her interest in the beverage world became evident early on during her time there. She continued her beverage path at The General on The Bowery and Lexington Brass. Shannon is an intro level Sommelier through the Court of Sommeliers, and has numerous spirits and mixology certifications. She has had the opportunity to study remotely and hands-on in both Tequila and France. She holds a degree from the University of Maryland, College Park in Dance Performance and Choreography. Shannon views Beverage as a multifaceted space for creativity, education, leisure, and enjoyment. She currently lives in Hoboken, New Jersey with her husband, Nick and dog, Crosby.
MUSICIAN, ANGELA TRAVINO: Angela Travino was raised in San Francisco, but has called NYC her home for 8+ years. Angela's theater credits include the 2nd National Tour of South Pacific, Tim Rice's From Here to Eternity, Anne of Green Gables at the Finger Lakes Musical Theatre Festival, and Beehive - also at the Finger Lakes Musical Theatre Festival, to name a few. Upon graduation from Syracuse University, Angela and her friends founded the premiere a cappella group RANGE a cappella. RANGE has performed on the Oscars, opened for Kelly Clarkson at Radio City Music Hall, and has collaborated with Billboard, Sesame Street, and Nickelodeon. She is also a founding company member of San Francisco Bay Area Theatre Company. You can check them all out at www.rangeacappella.com, www.sfbatco.org, and www.angela-travino.com.
CHEF, RICKY MUNGARAY: Having spent years working almost every position in the Front of House, Chef Ricky followed his passion for using creative flavors, fresh ingredients, and an eye for hospitality, into the kitchen at the iconic Joe's Pub & The Library in NYC. Under the mentorship of Chef Andrew Carmellini, Ricky worked his way up from the line, to become a Sous Chef, and ultimately the Executive Sous Chef and Banquet Chef. After almost a decade of working in the restaurant industry in New York, Chef Ricky relocated to New Orleans. There, he quickly found a home at Compère Lapin working alongside 2018 James Beard Winner and Top Chef Alumni, Nina Compton.
While most of his training is in Italian and French techniques, Chef Ricky's culinary voice is most influenced by his Spanish Basque and Costa Rican heritage. He is constantly inspired by simple, delicious, sustainable food, that is meant to be shared with good drinks, good people, and great conversation.
Currently, Chef Ricky is working beside James Beard Award Nominated Chef Alex Harrell at the Elysian Bar located inside Hotel Peter and Paul, which, was recently tapped as one of the "Best New Hotels in the World" by Travel and Leisure.