Craft Chocolate Experience: San Francisco - Main Event (Saturday & Sunday)
Join craft chocolate artisans from around the world for the most decadent festival in town.
About this event
COVID-19 Update, March 8, 2020 5:30AM: Craft Chocolate Experience has made the decision to keep our festival doors open for Sunday, March 8th. We recognize the seriousness of the recommendations from the San Francisco Department of Public Health and the Department of Emergency Management and have taken steps to mitigate risk to our exhibitors and guests. We have increased our number of hand sanitizing stations, doubled our janitorial staff to maintain clean touch surface areas, and have briefed all exhibitors about RIGOROUSLY maintaining control of the sampling process. Guests will be reminded as well about safety protocols. If you are among the vulnerable populations (over 60 years of age, or with weakened immune system); do not come. Guests seeking a refund can do so through Eventbrite, or via email at chocolate@craftchocolateexperience.com. The Craft Chocolate Experience Staff will continue to monitor the situation as it unfolds. We are thankful for the preparedness of our regional health authorities as well as our exhibitors for their diligence during this challenging time. For more details, see the "Covid-19 Updates" tab on our website (http://craftchocolateexperience.com/index.php/covid-19-updates/)
Craft Chocolate Experience: San Francisco is bringing craft chocolate to the Bay Area March 7-8, 2020! Bring your family and friends to sample and shop our marketplace of over 70 world class artisans, attend lectures and demos, play in the kids area, relax in our VIP Lounge, grab a bite in our food hall and more. The finest chocolate makers, chocolatiers, and local pastry chefs will be on hand sharing their products and knowledge with chocolate lovers of the Bay Area and beyond!
All ticket sales are final.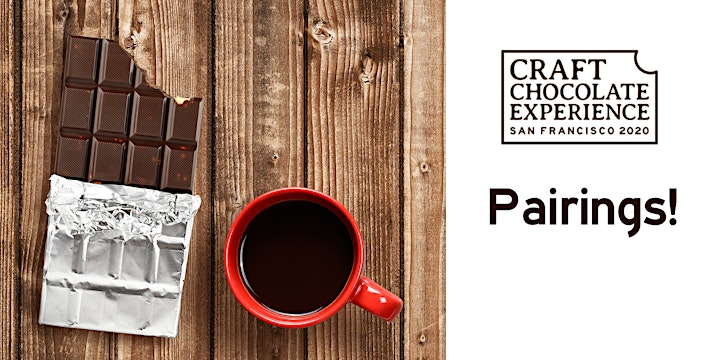 On Saturday and Sunday we'll be offering a series of chocolate pairings. Each pairing is a separately ticketed add-on that can be purchased in advance.
Learn how to pair chocolate with and tea, beer, port, cheese, or coffee.
Organizer of Craft Chocolate Experience: San Francisco - Main Event (Saturday & Sunday)
A festival by chocolate people and for chocolate people.
Craft Chocolate Experience is the vision of two industry parties that believe in celebrating chocolate industry excellence and innovation: San Francisco's Dandelion Chocolate and the team behind the Dallas Chocolate Festival, DallasChocolate.org.
Craft Chocolate Experience: San Francisco is bringing the finest chocolate in the world to the Bay Area. Attendees will be able to learn with all their senses: tasting samples of single origin chocolates and decadent bon bons, attending lectures about chocolate industry and innovations, and participating in interactive exhibits that bring the world of craft chocolate to life.
This delicious and educational expo delivers fun for the whole family while promoting the efforts of craft chocolate artisans and their partners throughout the supply chain.