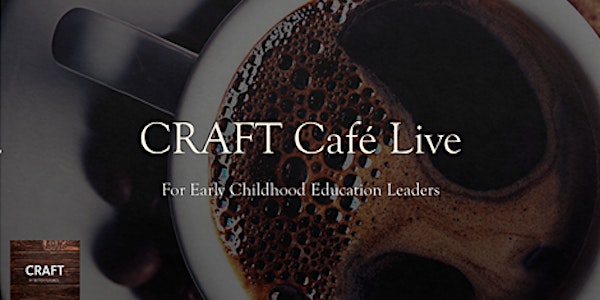 CRAFT Cafe LIVE!!! For Leaders of Early Childhood Education Businesses
Get your favorite mug and join us for a live virtual cafe with LaToya & 40+ year ECE veteran Dr. Robert Gundling on the real future of ECE!
About this event
Get your favorite mug, your ECE friends and join CRAFT for a live virtual café with LaToya, online host & 40+ year Early Childhood Education (ECE) veteran, Dr. Robert Gundling on the real future of the ECE industry and how you can stay ahead of the curve!
We will be discussing innovative solutions to some of the most pressing issues affecting ECE right now such as Zoning, Legislation, Gov't Contracts and the state of OSSE and Administration. We dig into the daily challenges you face running the business, finding & retaining quality staff, accounting & budgeting, marketing & enrollment, claiming your COVID relief funds and having the time to do it all.
Hear from other leaders and build your network of support to move our industry forward beyond the confines of this global pandemic. We are here to support, encourage and empower YOU, as you nurture and develop the world's greatest resource, our children!