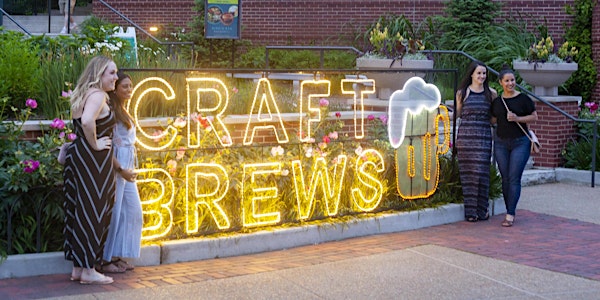 Craft Brews at Lincoln Park Zoo
Savor a selection of 100+ craft beers and ciders at the eighth annual Craft Brews festival, hosted by Lincoln Park Zoo and Lou Dog Events!
Date and time
Saturday, June 17 · 7 - 10pm CDT
Location
Lincoln Park Zoo 2234 North Cannon Street Chicago, IL 60614
About this event
About This Event
Savor a selection of more than 100 craft beers and ciders at the eighth annual Craft Brews beer festival, hosted by Lincoln Park Zoo and Lou Dog Events!
Beer tasting stations will be set up throughout the zoo's beautiful gardens during this one-of-a-kind, after-hours experience just for adults. Ticket holders will also enjoy food for purchase, music, lawn games, and—of course—the zoo's amazing animals!
TICKETS
General Admission tickets include entry to Lincoln Park Zoo beginning at 7 p.m. as well as tickets for twenty (20) 3-ounce tastings and (1) souvenir tasting glass.
Need more time? Purchase an Early Access ticket, which includes entry to Lincoln Park Zoo beginning at 6 p.m. for the full event experience plus an extra hour of beer-tasting!
All ticket holders must be 21+ with valid ID.
THIS EVENT WILL FEATURE
20 tastings from popular and local brewers
Lincoln Park Zoo Craft Brews souvenir tasting glass
Free rides on the AT&T Endangered Species Carousel
Live music performance from local Chicago band The Prissillas!
After-hours access to Lincoln Park Zoo's gardens and exhibits
Lawn games and plenty of spaces to stroll, sit, and sip with friends and family!
...and more!
FREQUENTLY ASKED QUESTIONS
What are the age restrictions for this event?
Craft Brews is an event for ages 21+ only. Children, including infants, are not permitted.
Is this event accessible?
Yes! To learn about accessibility at Lincoln Park Zoo, please visit lpzoo.org/accessibility. To view the accessibility map of Lincoln Park Zoo, click here.
My plans changed and I can no longer attend. What is the refund and exchange policy?
All Lincoln Park Zoo event tickets are non-refundable. If you are not able to make it to the event, feel free to give your ticket to a friend or family member. All events will be held rain or shine. Please dress accordingly!
I'm a Lincoln Park Zoo Member. How do I receive my discount?
Members get 10% off registration for all zoo events. To redeem your member discount:
1. Click "REGISTER NOW" at the top of the website.
2. Click "TICKETS."
3. In the top-right-hand corner, select "ENTER PROMOTIONAL CODE."
4. Enter the first three digits of your Lincoln Park Zoo membership number.
5. Select "APPLY CODE."
6. Select the number of tickets you need and proceed to checkout.
Will more tickets become available at a later date?
No. Tickets are first come, first served. We suggest buying your tickets early, as we cannot guarantee tickets will be available at a later date.
Can I purchase tickets at the door?
Maybe. If tickets remain available, a limited number of tickets will be for sale at the door. We highly recommend purchasing tickets in advance, though, as this event always sells out quickly!
How do I enter the event and can I re-enter once checked in?
Enter the zoo at the East Gate on Cannon Drive and Fullerton Parkway (the zoo's parking lot) or the West Gate at Stockton Drive and Webster Drive. Tickets can be scanned on your smartphone or on a printed sheet of paper. Re-entry is not permitted.
Is parking available?
Paid parking is available at the zoo's parking lot located at Fullerton Parkway and Cannon Drive (2400 N. Cannon Drive). The zoo is also accessible by train via the Armitage and Fullerton stations and by bus via the 22, 36, 151, and 156 routes.
Do I need to print my ticket?
Nope! All guests must show their ticket for entry. For the most efficient experience, please have your PDF ticket ready on your smartphone.
Will I see animals?
Hopefully! Most outdoor and indoor habitats will be open for viewing. However, all animals have the choice to be in view of guests or behind the scenes.
What if it rains?
Craft Brews takes place rain or shine. Please dress accordingly. Tickets are non-transferrable and non-refundable.
Will there be food available for purchase?
Yes! A variety of delicious food options will be available for purchase across zoo grounds.
What can't I bring or do at Craft Brews?
Lincoln Park Zoo has a firm policy regarding restricted items for this event. Please make note of the below items that are not allowed:
NO OUTSIDE FOOD OR BEVERAGES
No water bottles, beverage containers, cans, or bottles
No folding chairs
No luggage of any kind
No animals (with the exception of service animals)
No coolers (unless medically required)
No illegal substances
No noisemakers or balloons
No Segways or motorized scooters
No thermal containers
No weapons
No remote-controlled aircrafts or drones
No items deemed dangerous or inappropriate
Alcohol purchased outside the zoo is prohibited, and we ask that you refrain from smoking tobacco and cannabis inside the gates for the health and safety of our animals and visitors. Lincoln Park Zoo's Code of Conduct can be found here.
For the safety of our visitors, staff, and animals, all bags, purses, strollers, packages, and other items carrying personal belongings are subject to inspection upon entry to Lincoln Park Zoo.
Interested in sponsorship opportunities?
Email corporatealliances@lpzoo.org.
Have accessibility needs or need help buying a ticket?
Email accessibility@lpzoo.org.
Interested in volunteering at Lincoln Park Zoo?
Email volunteerservices@lpzoo.org.
Have other questions or issues not listed here?
Email events@lpzoo.org.
About the organizer
About Lincoln Park Zoo
Vision
Inspire communities to create environments where wildlife will thrive in our urbanizing world.
Mission
Lincoln Park Zoo is dedicated to connecting people with nature by providing a free, family-oriented wildlife experience in the heart of Chicago and by advancing the highest quality of animal care, education, science and conservation.
Funding
Lincoln Park Zoo is a privately managed institution that depends primarily on the support of its visitors, members and donors to remain open and free every day. More than two-thirds of the zoo's operating budget is provided by revenue from its food service, retail shops, parking, and fund-raising activities. The remaining portion is provided by a fixed annual subsidy from the Chicago Park District.
Leadership
Lincoln Park Zoo is ambitious—a direct reflection of our executive staff and the passion they bring to the zoo each and every day. Their talents lead to the conservation of animals around the world, the cataloguing of critically endangered plants at the zoo, the development of learning programs throughout Chicago, and the creation of animal-care techniques that benefit individuals across the globe. The zoo also relies on its Board of Trustees for leadership and guidance. Providing insights on financial and operational matters, they are primarily responsible for the fiscal health of the zoo. The Women's Board and Auxiliary Board provide supportive funds through extensive fundraising efforts, such as Zoo Ball, and public service initiatives, such as Spooky Zoo.
Reservation and Ticket Policies
Capacity
Lincoln Park Zoo reserves the right to increase or reduce the number of reservations available on any given date/time based on visitor data, operational capacity, and/or City and State guidelines.
Refunds
All events at Lincoln Park Zoo are non-refundable.
Weather/Emergencies
Lincoln Park Zoo and associated events are rain or shine. In the case of severe weather or unexpeced emergencies, we will do all we can to notify guests in advance of specific cancellations .
Photography and Filming Notice
During your virtual and in-person visit to Lincoln Park Zoo, you may be recorded or photographed by or on behalf of Lincoln Park Zoo. Your purchase/entry to this program serves as permission for use of your image by Lincoln Park Zoo.
Lincoln Park Zoo regularly uses this media to review our practices as well as safeguard our participants should any unwanted behavior arise. At times recordings/photographs are requested by the media for promotional consideration as well. Lincoln Park Zoo may also share the recorded video or photographs after the program, for future promotional efforts.  
If you do not want your likeness or name recorded at virtual events, please ensure your camera is turned off and the alias associated with your account is updated. 
Lincoln Park Zoo will do everything possible to communicate media schedules in advance as well as clarify recording status to all guests participating in both virtual and in-person events.