About this Event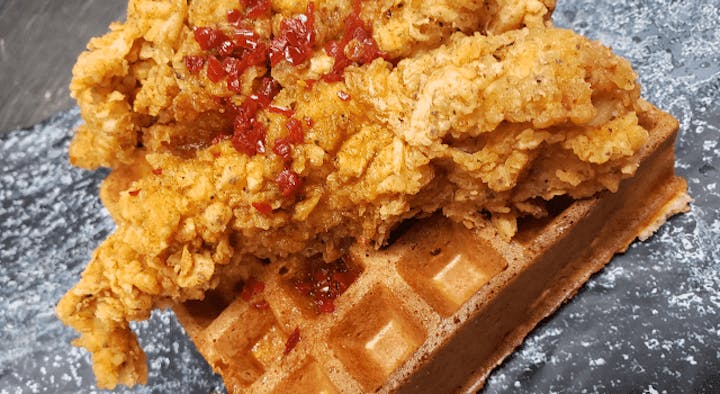 Orange County Brewers and Jake's 29° Sports Bar & Grill in Orange City have teamed up to bring you "Fried in the Florida Sun" a four-course dinner with craft beer pairings celebrating hyper-local craft brews, beer-infused food and the flavors of summer!
The night will be hosted by Orlando radio voice Dickerman of WJRR 101.1 "Orlando's Rock Station", and feature games, giveaways and more, for the obtainable price of only $29, tax and gratuity included.
*Tickets will be $35 at the Door.
Event Menu
Course 1: Beach Boardwalk Taco
New England IPA Battered Flounder | Roasted Pineapple Slaw
Paired with: Beach Blond (Blonde Ale)
Course 2: Sun-Burnt Salad
Arcadian | Bib | Mandarin| Tempura Mango | Stone Fruit Pale Ale Vinaigrette
Paired with: Black Hops Down (Black Lager)
Course 3: Hot Summer Nights
Southern Fried Chicken | "Florida Bird" Heffeweizen Waffle | Hefeweizen Hot Honey
Paired with: Ultimate Warrior Citra (IPA)
Course 4: Beach Bonfire Skewer
Fried Bread Pudding on a Skewer | Irish Red Ale Syrup
Paired with: Dankster of Love (Double IPA)
Prizes for this event include:
*Disturbed Evolution Tour*
September 22 at Amway Center
The Petty Hearts: Tribute to Tom Petty
August 2 at House of Blues
Slippery When Wet: Tribute to Bon Jovi
July 6 at House of Blues
Nirvanna: Tribute to Nirvana
July 20 at House of Blues
A Tribute to Elton John and Billy Joel
August 9 at House of Blues
Play for a Chance to Beat the Brewer!
Thursday, July 11, 2019, • 8:10 pm
Be sure to stick around for a chance to win additional prizes and "Beat The Brewer" in Mel Taylor's "$65 Hot Rock" Poker Tournament immediately following the beer dinner event at the Orange City Racing & Card Club "Orlando's Closest Poker Room"!
Downtown Orlando's first craft brewery with the help of local farmers and our Head Brewer, Kent Waugh.
About Jake's 29° Sports Bar & Grill
Jake's 29° Sports Bar and Grill is an exciting new concept restaurant for friends and family! Whether you're joining us for an icy cold 29° draft beer and to catch a game on one of 40 TVs or just grabbing a bite between poker hands, there's something for everyone.
101.1 WJRR is Orlando's Rock Station. We play the best new rock mixed with your favorites including Metallica, Tool, Ozzy, STP, Godsmack, GNR, Green Day, Rage Against The Machine, Led Zeppelin, Disturbed, Staind, Soundgarden, and Red Hot Chili Peppers...to name just a few
Disclaimer: Management Reserves the Right to Change, Cancel or modify Events without notice. Must Be at least 21 years of age to consume alcohol.