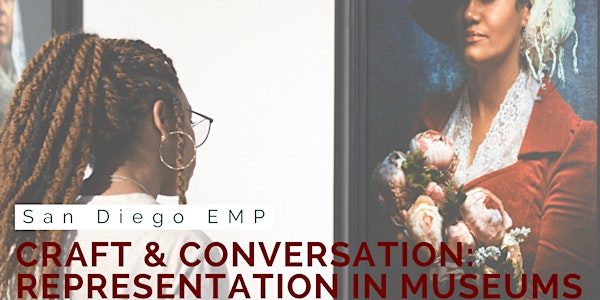 Craft and Conversation: Representation in Museums
By San Diego Emerging Museum Professionals
Date and time
Wednesday, May 30, 2018 · 6 - 8pm PDT
Location
San Diego Art Institute 1439 El Prado San Diego, CA 92101
Description
Drinks and deep conversation with fellow museum lovers – what could be better?
San Diego Emerging Museum Professionals brings you our next installment of Craft & Conversation, focusing on Representation in Museums. Whose works and perspectives are being represented -not just in exhibits but among the ranks of the museum staff? What can we do together to promote a harmony of diverse voices?
Our friends at the San Diego Art Institute will guide us through this conversation. Come as early as 6pm to walk through their ABOUT-FACE exhibit, then grab a drink and settle in as featured artist, Alanna Airitam, and Deputy Director, Sarah Trujillo-Porter, kick off the discussion.
Suggested $10 Donation


---
To help prepare for this dialogue, attend one (or both!) of the FREE San Diego Art Institute events below, or read a selection of these provided articles:
Survival Stories: Artists of Color in the Face of Institutional Racism
Saturday, May 19, 4-6pm

ABOUT-FACE VIP Reception: Cocktails, Curator Talk, & Film Screening
Wednesday, May 23, 5pm-8pm
Be our guest at ABOUT-FACE for a curator talk and walkthrough with the artists at 6PM. The short documentary film, "From Haarlem to Harlem," will be screened every half hour starting at 5:15PM in our private screening room. This short film by The Artist Odyssey documents Alanna Airitam's time working on "The Golden Age" series, currently on view at SDAI.

Cash Bar (SDAI members receive a complimentary drink ticket)
---
Articles (choose ones that most interest you):

---
Learn More About Our Presenters!
Alanna Airitam | Fine Art Portrait Photographer and Artist
Alanna Airitam is a fine art portrait photographer. A major theme in her work is representation and she uses art as a platform to lift marginalized voices. Born in New York, she grew up in Dallas and currently resides in San Diego. The Golden Age series grew from Alanna's desire to see people like herself represented in art history. The photographic portraits, staged with Rembrandt-like lighting, evoke Dutch Realism painting of the 17th century. Each title is a nod to the Harlem Renaissance: streets and landmarks in Harlem, NY, whose namesake came from the Dutch city of Harlem. Both were known for their wealth and outpouring of art during their respective Renaissances.
Sarah Trujillo-Porter | San Diego Art Institute | Deputy Director
Sarah Trujillo-Porter is SDAI's Deputy Director and project manager for projects including the MJM Artist in Residence Program and the CAC grant funded Little Saigon project. Sarah is working with the fine team at the art center to bring exciting programming to our region and develop interesting experiences for all age groups. Sarah has a background in contemporary art, with an MA in Contemporary Art from Sotheby's Institute of Art and a BA in Art History with a minor in Business Administration from the University of Arizona. In her past role as Associate Director at Quint Gallery, Sarah worked on a number of projects including exhibition management, GSA contracts and other artwork commissions. She simultaneously worked at MCASD as a Gallery Educator.
About the organizer
The mission of San Diego Emerging Museum Professionals (EMP) is to facilitate career growth through networking and professional development opportunities. San Diego EMP welcomes members from all fields and is primarily composed of employees, volunteers, and students in their first ten years of a museum-related career. By offering regular meetups, workshops, tours, and other profession-related activities, San Diego EMP is a valuable resource for San Diego's museum community.