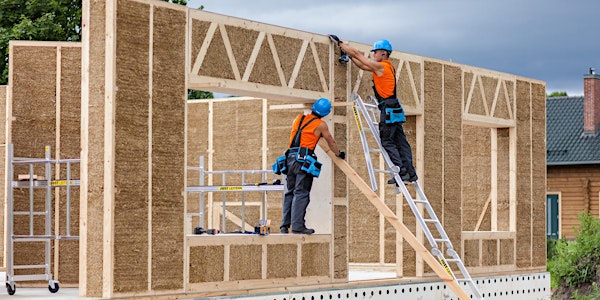 Cradle to Cradle Materials: Pathway to a Sustainable Future
Cradle to Cradle: Pathway to a Sustainable Future, What it is, Examples, Challenges & Next Steps
When and where
Location
Wood Technology Center, Seattle Central Colleges 2310 South Lane Street (2 blocks south of Jackson) Seattle, WA 98144
About this event
Parking is free in the school's parking lot for attendees
(ignore signs that say permit required)
Cradle to Cradle 101
What it is Cradle to Cradle & how does it work? Learn how Cradle to Cradle products & projects are evaluated & certified. The goal is to make all materials used in construction to be: durable for many years; reusable; recyclable at a high level, or compostable.
Challenges with Cradle to Cradle Materials
Our panel will discuss the challenges with finding & using Cradle to Cradle products in construction. These challenges include toxic materials, not building for deconstruction, wood that's glued together. Since most building materials are not Cradle to Cradle, we'll also discuss other types of materials that are much more sustainable than conventional materials. Types include salvaged materials, materials with high recycled content, and materials that are recycled to a very high level. All building materials do have challenges: in what new or raw materials are available; a difficulty in evaluating new materials for embodied energy, water use intensity, possible toxic content & carbon output in production.
How to Take Things to the Next Level
How can the building industry work with manufactures? How do architects and designers optimize the design process to reduce material usage and recycle/reuse materials that don't get used on the project they were intended for. How do we optimize the construction process to take positive steps towards reducing material use? How can we, as an industry, provide better information about materials that is more easily accessible to professionals and consumers? How do we educate architects, contractors & the public?
Speakers:
Alexandra Muller
Alexandra is the Associate Director of Products at the Living Future Institute, overseeing strategic technical development of the Declare and Living Product Challenge standards and industry harmonization efforts. She also leads a group of leading manufacturers called the Living Product 50 as well as efforts to engage the entire building industry value chain around the business case for sustainability. Alex is interested in how environmental and material impact transparency can help create a future market with safe and sustainable materials for all. She holds a Master's in Sustainability & Technology from Purdue University and the Dublin Institute of Technology.
Dirk Wassink
Dirk Wassink is the president of Second Use Building Materials. For the past 20 years, he has focused on making building materials salvage and reuse more intuitive and accessible in the Puget Sound region. He served as aboard member for the Building Materials Reuse Association 2006 - 2012. He currently advocates for public policy support for reuse as the Chair of the Seattle Waste Advisory Committee and the King County/Seattle Deconstruction Advisory Group.