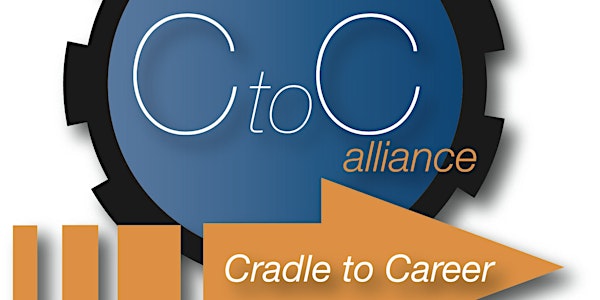 Cradle to Career Alliance - Launch
This is where it all begins. A platform for actionable, aligned College and Career Readiness / Workforce Development efforts in SCPA
By Partnership for Career Development
Date and time
Monday, June 3, 2019 · 8 - 9:30am EDT
Location
Capital Area Intermediate Unit 55 Miller Street Enola, PA 17025
About this event
Following a yearlong steering committee and years in the development, PCD is launching the Cradle to Career (C to C) Alliance for business/industry, post-secondary and community leaders that are dedicated to workforce development through College & Career Readiness (CCR) efforts from Pre-K through HS Graduation on June 3 at longtime partner PSECU's Headquarters in Harrisburg.
Seats are limited to those who are ready to put plans into action through a regional eight-county collaboration and sharing of best practices.
Representatives and leaders from SCPa Works (previously known as the WIB), the Capital Area Intermediate Unit (CAIU), regional school district superintendents, chambers of commerce, and state associations have been working on the steering committee and will be there.
Leaders from: Dauphin, Cumberland, Perry, N. York, Lebanon, Adams, Franklin, Juniata, are invited to attend.
PCD is a part of the South-Central Workforce Development Board solely dedicated developing Business-Education Partnerships (BEP) for CCR efforts. PCD a non-profit 501c-3 intermediary organization. It's nearly 25-year-old history has been dedicated to providing college and career readiness and emerging workforce development opportunities for educators and students by developing and fostering partnerships between businesses, community and all levels of education. These efforts help students with career awareness, exploration and experiences that strive to be aligned with the workforce needs of the region.
More info: www.crpcd.org LMorris@scpaworks.org (717) 810-6252
About the organizer
The Partnership for Career Development is a registered 501c-3 non-profit, tax-exempt, public charity. PCD is an intermediary organization serving Dauphin, Cumberland, Perry, N. York, Lebanon, Adams, Franklin, and Juniata Counties. PCD's work is dedicated to partnering and developing relationships between businesses, post-secondary educational institutions, credential programs, community agencies and its many member districts and schools for the purpose of Student Career Readiness and Workforce Development.  For more information, please visit www.crpcd.org.