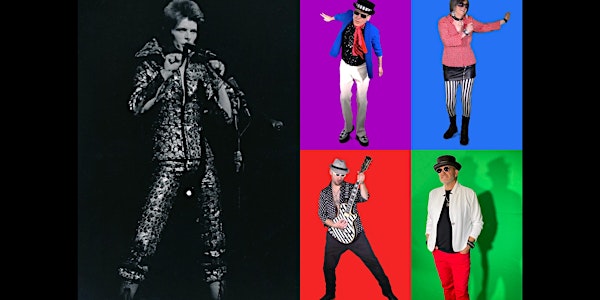 Cracked Actor: Aladdin Sane at 50 (at CLE Urban Winery)
Celebrate David Bowie's birthday & 50th anniv. of Aladdin Sane w/ interviews, deep cuts & original music from Vanity Crash & Thomas Mulready
When and where
Location
CLE Urban Winery 2180 Lee Road Cleveland Heights, OH 44118
About this event
Bowieologist Thomas Mulready partners with glam rock superstars Vanity Crash to mark the 50th anniversary of the artist's classic album Aladdin Sane in a performance featuring live original and Bowie music, interviews, and a dazzling live presentation entitled, Cracked Actor. The show will be presented within days of David Bowie's birthday (January 8) and death anniversary (January 10).

These presentations feature a dazzling light show, interviews, a slew of new original songs by Vanity Crash, and a selection of Bowie deep cuts and favorites, all performed in the Glam Punk style foreshadowed by Bowie's band The Spiders From Mars, which influenced Punk, Post-Punk, Glam, New Wave, Goth, New Romantic, and decades of styles since.
The album Aladdin Sane was Bowie's first as a bonafide superstar, and was written mainly on the road during the artist's first tour of the United States, kicked off with his US debut at Cleveland's Music Hall on September 22, 1972. It was jazz pianist Mike Garson's first gig with Bowie, and he eventually performed and recorded with the artist for decades, right up to his last public performances before his passing in 2016.
On the heels of the just-released Moonage Daydream, the feature film by Brett Morgen that was the first to be endorsed by Bowie's estate, the Cracked Actor show takes a more narrative approach, integrating key unique interviews with stunning live music and video.
Woody Woodmansey, drummer for Bowie's groundbreaking early-1970's band, The Spiders From Mars, is featured in an exclusive interview, along with psychotherapists, an expert from the Rock and Roll Hall of Fame, and a musician colleague of Bowie's, as the show explores the issues of mental health and madness that Bowie explicitly deals with in his music. An exclusive interview with Mike Garson is featured in the show, and Vanity Crash will perform their song, Angel and Me, which showcases Mike Garson on piano.
About Thomas Mulready: Acclaimed pop culture presenter Thomas Mulready is known for his avant-garde non-profit festivals: Ingenuity Fest, now in its 18th year, and the legendary Performance Art Festival, the largest festival of performance art ever. He created the CoolCleveland media network in 2002 to turn people on to the coolness of Cleveland. Assiduously researched and painstakingly organized, Mulready's performance art has been presented in Cleveland, Chicago, New York and Paris, and he served as a Senior Research Consultant in the United Kingdom. His multimedia presentations on Andy Warhol, The Velvet Underground, David Bowie, Glam, Punk and The Beatles have been presented at universities, jazz clubs and aquariums.
About Vanity Crash: Vanity Crash was born on stage under hot lights in the crucible of sound and fury as the glam-punk band The Angry Inch in the rock musical Hedwig and the Angry Inch. Ever since, Vanity Crash has been dressing up and throwing down eye-popping synchronized light shows, outrageous stage costumes and provocative attitude, opening for the likes of the New York Dolls, Poison, Semi Precious Weapons, the Darkness and Gogol Bordello. Their recent celebrated tributes to pop culture heroes include timeless gems performed live alongside their own incendiary originals. Vanity Crash has released five albums, two of which include original songs featuring David Bowie's longtime pianist, Mike Garson.
About CLE Urban Winery: Bringing the unique concept of a working winery and tasting room to the historic urban setting of the Cedar-Lee neighborhood of Cleveland Heights, Ohio, CLE Urban Winery doesn't have a vineyard – their wines are hand-crafted and bottled on-site in their craft brewery-style winery and are made from premium juice sourced primarily from the US west coast and branded to honor and celebrate the city of Cleveland.