CPS Lecture #115: Nancy Koehn on Forged in Crisis: The Power of Courageous...
Description
What do polar explorer Ernest Shackleton, President Abraham Lincoln, legendary abolitionist Frederick Douglass, Nazi-resisting clergyman Dietrich Bonhoeffer, and environmental crusader Rachel Carson have in common? In answering that question, Nancy Koehn offers remarkable insights into leadership in a time of crisis – insights that are as resonant today as they were in the eras in which these five inspirational figures lived.
In her CPS lecture, Nancy will discuss her new book, Forged in Crisis: The Power of Courageous Leadership in Turbulent Times. Fortune has already listed Forged in Crisis as one of "The Top 10 Books to Read This Fall," and it has been recently featured in The Washington Post and on Charlie Rose, Bloomberg Radio, Fox and Friends, and CBS This Morning.
JOIN US on Thursday, November 30 at 7:30 pm for a CPS Lecture with Harvard Business School historian Nancy Koehn on the powerful stories of five great leaders. Author of Forged in Crisis: The Power of Courageous Leadership in Turbulent Times, Nancy will discuss how leaders are not born but made.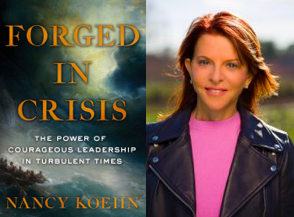 About Nancy:
Nancy is a historian at the Harvard Business School, where she holds the James E. Robison chair of Business Administration. Nancy's research focuses on how leaders, past and present, craft lives or purpose, worth, and impact. She is the author of numerous books, articles, and Harvard Business School cases. She writes frequently for the New York Times, the Washington Post, and the Harvard Business Review Online. She is also a weekly commentator on National Public Radio and has appeared on many national television programs. She has spoken at the World Economic Forum in Davos, the Aspen Ideas Festival, and in many other venues. A Phi Beta Kappa graduate of Stanford University, Koehn earned a Master of Public Policy from Harvard's Kennedy School of Government before receiving her MA and PhD in History from Harvard. She lives outside Boston and is a dedicated equestrian.
About CPS Lectures:
CPS Lectures is a free discussion series that takes place in San Francisco. It is a program of the nonprofit The diaTribe Foundation. The series honors the memory of Cyril Patrick Shaughnessy, Jr., Kelly's father, who died in late 2002 and loved discussions and learning.
- Parking on the street or at 45 Castro, two blocks away from the venue - the 6, 7, and 24 MUNI buses also brings you to within a block of us.
- RSVP required for this free event. You will be given a chance to donate to the nonprofit, The diaTribe Foundation, when you register - this is completely optional. Thank you to all those who have given to date, which has been very generous and has helped enormously to offset the cost of drinks and food, occasional air tickets to speakers, and low-key management of the event.
- Please share our series with others – you can forward this invite or invite people to sign up at www.cpslectures.com. If you RSVP yes and have to cancel, please do so within 24 hours of our event or risk not receiving the next invitations!
Thank you so much for so much encouragement and support of this series. We so hope to see you on November 30 and we look forward to what we know will be a most compelling discussion.