CPS Lecture #113: Emily Esfahani Smith on The Power of Meaning: Crafting a...
Description
In a culture that is obsessed with happiness, how do we find meaning amidst the relentless pursuit of happiness? In her CPS Lecture, Emily Esfahani Smith will discuss the difference between meaning and happiness, and the human desire to make life worth living. Typical ideas about a meaningful life typically involve something "big" – a Purpose or Passion in life. In writing her book, The Power of Meaning: Crafting a Life That Matters, however, Emily has found that most people spend their time engaged in more ordinary pursuits. "Even if we all don't find a calling life, that doesn't mean we won't find meaning life," Emily writes. Based off of extensive research in positive psychology and insights from George Eliot, Victor Frankl, Aristotle, the Buddha, and other great minds, Emily's book encourages readers to begin building a culture of meaning in the circles that surround us – whether our schools, workplaces, or communities. Emily will also talk about the different "pillars" of meaning – or the primary sources of meaning in life that she has pinpointed through interviews with seekers of meaning. Take the quiz: What's your pillar of meaning? to find out what pillar you lean on to find meaning in your life.
JOIN US on Wednesday, April 12, at 7:30 pm for a CPS Lecture with positive psychology expert Emily Esfahani Smith on what makes a life worthwhile. Author of The Power of Meaning: Crafting a Life That Matters, Emily will discuss how to connect and contribute to something that lies beyond the self, and the sources of meaning that surround us.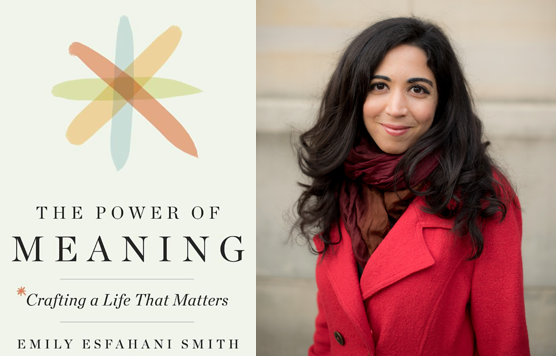 About Emily
Emily Esfahani Smith is the author of The Power of Meaning: Crafting a Life That Matters (Crown). She writes about psychology, culture, and relationships. Her writing has appeared in the Wall Street Journal, New York Times, Time, The Atlantic, and other publications. Emily is also a columnist for The New Criterion, as well as an editor at the Stanford University's Hoover Institution, where she manages the Ben Franklin Circles project, a collaboration with the 92nd Street Y and Citizen University to build meaning in local communities. Born in Zurich, Switzerland, Emily grew up in Montreal, Canada. She graduated from Dartmouth College and earned a master of applied positive psychology from the University of Pennsylvania.
About CPS Lectures:
CPS Lectures is a free discussion series that takes place in San Francisco. It is a program of the nonprofit The diaTribe Foundation. The series honors the memory of Cyril Patrick Shaughnessy, Jr., Kelly's father, who died in late 2002 and loved discussions and learning.
- Parking on the street or at 45 Castro, one block away from the venue (our home) - the 24 MUNI bus also brings you to within a block of us.
- RSVP required for this free event. You will be given a chance to donate to the nonprofit, The diaTribe Foundation, when you register - this is completely optional. Thank you to all those who have given to date, which has been very generous and has helped enormously in our subsidy of the cost of drinks and food, occasional air tickets to speakers, and low-key management of the event. We continue to search for a community manager and appreciate any volunteer offers of help as well! (Our manager of the first 100 events has recently moved away from this position.)
- Please share our series with others – you can forward this invite or invite people to sign up at www.cpslectures.com. If you RSVP yes and have to cancel, please do so within 24 hours of our event or risk not receiving the next invitations!
Thank you so much for so much encouragement and support of this series. We so hope to see you on March 1and we look forward to what we know will be a most compelling discussion.