CPS Lecture #112: Bruce Feiler on The First Love Story: What Adam and Eve C...
Actions and Detail Panel
CPS Lecture #112: Bruce Feiler on The First Love Story: What Adam and Eve C...
Tue, April 4, 2017, 12:30 PM – 2:30 PM PDT
Description
We are so excited to announce a special lunch-time CPS Lecture with renowned author, traveler, television series host, and New York Times Columnist Bruce Feiler. A respected voice on religion, politics, and family matters – as well as what the Atlanta Journal-Constitution calls "a real life-Indiana Jones" – Bruce Feiler has journeyed across continents to explore some of the world's most influential stories. In his PBS mini-series, Sacred Journeys and Walking the Bible, Feiler travels on six historic pilgrimages around the world and retraces the Five Books of Moses, respectively. In his latest book, The First Love Story: Adam, Eve, and Us, Feiler travels from the Garden of Eden in Iraq to the Sistine Chapel in Rome, from London to Hollywood, exploring how the story of Adam and Eve has shaped modern conceptions about love, relationships, togetherness, and social cohesion. We hope you will be able to join us on your lunch break for what is sure to be a memorable conversation on the impact of Adam and Eve on modern love. If you are unable to attend during the day but would still love to get a signed book, please email us and we'll be sure to make it happen!
JOIN US on Tuesday, April 4, from 12:30-2:30 pm, for a special lunch-time CPS Lecture with Bruce Feiler, celebrated author of books including The Secrets of Happy Families, television host of two popular PBS series, and columnist of the beloved "This Life" monthly column in the New York Times. Bruce will read from his latest book, The First Love Story: Adam, Eve, and Us, and discuss how the story of Adam and Eve has forever changed the idea of love.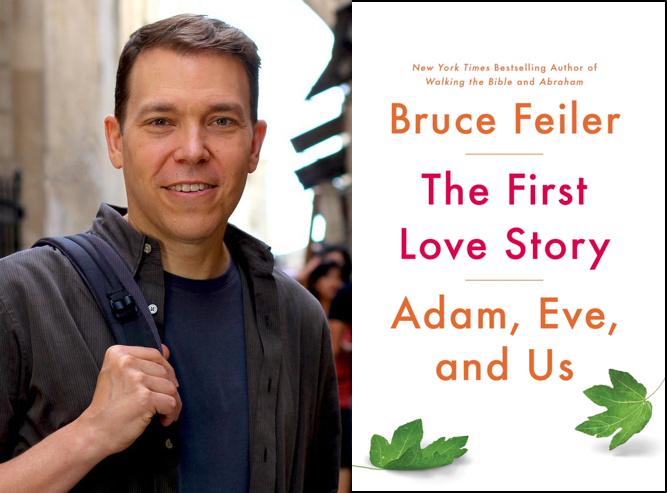 About Bruce
Bruce Feiler is a columnist for the New York Times and is the author of six consecutive New York Times bestsellers, including Walking the Bible, Abraham, and The Secrets of Happy Families. He's also the host of the PBS series "Walking the Bible" and "Sacred Journeys with Bruce Feiler" TV Series – a journey by land through the five books of Moses. Bruce's New York Times column, "This Life," explores various aspects of contemporary life, whether on the influence of technology on family life, expressing sympathy, or how best to ask for forgiveness. His writing on family provide support and inspiration for modern families, including The Stories that Bind Us (watch Bruce's TED talk on family stories here) as well as a personal memoir on parenthood and his battle with cancer, The Council of Dads. Bruce has also written for a number of other publications, including The New Yorker, and is a frequent contributor to National Public Radio, CNN, and Fox News.
About CPS Lectures:
CPS Lectures is a free discussion series that takes place in San Francisco. It is a program of the nonprofit The diaTribe Foundation. The series honors the memory of Cyril Patrick Shaughnessy, Jr., Kelly's father, who died in late 2002 and loved discussions and learning.
- Parking on the street or at 45 Castro, one block away from the venue (our home) - the 24 MUNI bus also brings you to within a block of us.
- RSVP required for this free event. You will be given a chance to donate to the nonprofit, The diaTribe Foundation, when you register - this is completely optional. Thank you to all those who have given to date, which has been very generous and has helped enormously in our subsidy of the cost of drinks and food, occasional air tickets to speakers, and low-key management of the event. We continue to search for a community manager and appreciate any volunteer offers of help as well! (Our manager of the first 100 events has recently moved away from this position.)
- Please share our series with others – you can forward this invite or invite people to sign up at www.cpslectures.com. If you RSVP yes and have to cancel, please do so within 24 hours of our event or risk not receiving the next invitations!
Thank you so much for so much encouragement and support of this series. We so hope to see you on April 4 and we look forward to what we know will be a most compelling discussion.
Date and Time
Location
Address will be sent to those who RSVP - it's in the Lower Haight in SF
San Francisco