CPS Lecture #111: Salman Ahmed on US National Security Strategy and Decisio...
Actions and Detail Panel
CPS Lecture #111: Salman Ahmed on US National Security Strategy and Decisio...
Thu, March 2, 2017, 7:30 PM – 9:30 PM PST
Description
We are thrilled to announce that we have not one, but TWO amazing CPS Lectures scheduled for the beginning of March!
On Thursday, March 2, Salman Ahmed, outgoing Special Assistant to the President and Senior Director for Strategic Planning on the National Security Council (NSC) staff, will offer reflections on President Obama's national security strategy and the challenges now facing the new Administration. Under Salman's leadership, the Strategic Planning Directorate: led preparation of the 2015 National Security Strategy; contributed to the rightsizing and reform of the NSC staff; helped prepare the transition to the President-elect's incoming NSC team; facilitated inter-agency deliberations on long-term trends shaping the international order; and partnered with NSC colleagues on the development of policies and strategies related to Russia, the Rebalance to Asia, Countering ISIL, Technology and National Security, Fragile States, International Peace Operations, and Diversity in the National Security Workforce. And, at critical moments between 2013 and 2016, Salman directly supported the Secretary of State's negotiations with Russia on Syria, including standing up and co-chairing the International Ceasefire Task Force in Geneva.
JOIN US on Thursday, March 2 at 7:30 pm for a CPS Lecture with Salman Ahmed, an expert on international peace and security, who will reflect on his time serving on President Obama's National Security Council staff, as Special Assistant to the President and Senior Director for Strategic Planning.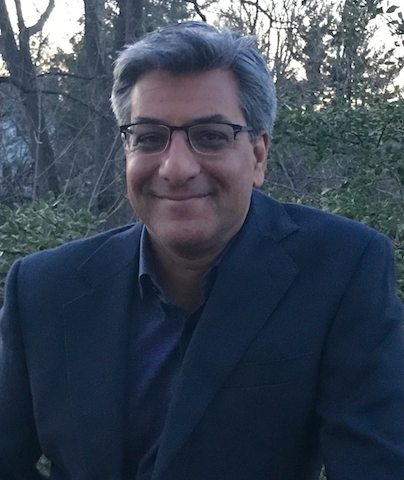 ABOUT SALMAN:
For the past 25 years, Salman has been managing complex peace and security challenges on behalf of the White House, the Department of State, and the United Nations.
Prior to assuming his duties on the National Security Council Staff in July 2013, Salman was Chief of Staff of the United States Mission to the United Nations and Senior Policy Advisor to the United States Permanent Representative to the United Nations (USUN). In that capacity, he supported the Cabinet-ranked Ambassador on a broad range of policy issues, and served as a key member of the Mission's senior management team. Before joining the U.S. Department of State in 2009, Salman served as a Visiting Professor and Research Scholar at Princeton University's Woodrow Wilson School of Public and International Affairs, where he taught graduate-level courses on peacekeeping and post-conflict reconstruction. Prior to teaching at Princeton, he worked for almost 15 years at the United Nations, including as: Chief of Staff for the Head of UN Peacekeeping Operations (DPKO), when the Department was managing over 100,000 personnel in dozens of conflict zones, with an annual budget over $6 billion; the Secretary of the Panel on UN Peace Operations ("the Brahimi Report") that put forward sweeping reforms for overhauling the way the UN conceived, planned, directed, managed and logistically supported multi-billion dollar peace operations; co-drafter of the UN Secretary-General's Report on the Fall of Srebrenica that candidly exposed deep failings in the UN's "Safe Area" policy; and in various other capacities planning and serving in field missions in Iraq (2003, 2004), Afghanistan (2001-2), Bosnia and Herzegovina (1996-1998), South Africa (1994), and Cambodia (1992-3).
Salman holds a Master's Degree in International Relations from the University of Cambridge, UK, and a Bachelor's of Science in Economics from New York University's Stern School of Business. He is a member of the Council on Foreign Relations. Salman lives in Arlington, Virginia, with his wife and two daughters.
About CPS Lectures:
CPS Lectures is a free discussion series that takes place in San Francisco. It is a program of the nonprofit The diaTribe Foundation. The series honors the memory of Cyril Patrick Shaughnessy, Jr., Kelly's father, who died in late 2002 and loved discussions and learning.
-- Parking on the street or at 45 Castro, one block away from the venue (our home) - the 24 MUNI bus also brings you to within a block of us.
-- RSVP required for this free event. You will be given a chance to donate to the nonprofit, The diaTribe Foundation, when you register - this is completely optional. Thank you to all those who have given to date, which has been very generous and has helped enormously in our subsidy of the cost of drinks and food, occasional air tickets to speakers, and low-key management of the event. We continue to search for a community manager and appreciate any volunteer offers of help as well! (Our manager of the first 100 events has recently moved away from this position.)
--Please share our series with others – you can forward this invite or invite people to sign up at www.cpslectures.com. If you RSVP yes and have to cancel, please do so within 24 hours of our event or risk not receiving the next invitations!
Thank you so much for so much encouragement and support of this series.
We so hope to see you on March 2 and we look forward to what we know will be a most compelling discussion.