Description
You don't have to be in business to learn from Lisa Kay Solomon's comprehensive new guide to the tools, skills, and mindsets required to master ambiguity and create value from uncertainty. In fact, any field that you're in will benefit from learning from designers – people who live with uncertainty and turn it into an ally. In her CPS Lecture, Lisa will be sharing key lessons from her guide, Design a Better Business, with our audience – including information about the double loop design process, a practical approach to creating and growing value using collaborative and generative practices that anyone can learn and immediately try with any organization they are involved in. At this lecture, you'll learn personal insights from thought leaders such as Steve Blank on innovation, Alex Osterwalder on business models, Nancy Duarte on storytelling, and Rob Fitzpatrick on questioning, among others. The book includes detailed visual guides to over 20 strategic tools and 48 case studies. In preparation for her talk, take a look at the Design a Better Business toolbox and download helpful tools on everything from preparing, ideating, visualizing, to scaling for free!
JOIN US on Wednesday, March 1, at 7:30 pm for a CPS Lecture with Lisa Kay Solomon, a thought leader in design innovation. Lisa will share key tips on how to work with, and thrive from, uncertainty, PLUS how to launch and sustain innovation as a discipline.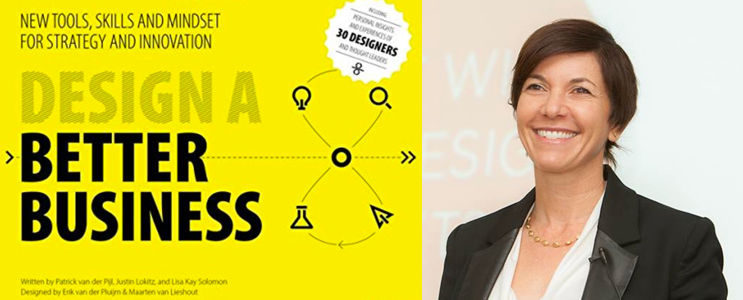 About Lisa:
Lisa Kay Solomon is a well-known thought leader in design innovation with a focus on helping leaders learn how to be more creative, flexible and resilient in the face of constant change. Lisa is Managing Director of Transformational Practices and Leadership at Singularity University a global community of smart, passionate, action-oriented leaders who want to use exponential technologies to positively impact the world. She coauthored the Wall Street Journal bestseller, Moments of Impact: How to Design Strategic Conversations that Accelerate Change, and, more recently, Design a Better Business: New Tools, Skills and Mindset for Strategy and Innovation. Lisa is a frequent keynote speaker on innovation, design thinking and leadership at global conferences. A passionate educator, Lisa has taught at the revolutionary Design MBA program at California College of the Arts and has developed and led popular classes for Stanford d. School such as Networking By Design and Design With the Brain in Mind. She is also the Executive Producer of the annual Inspired4Schools conference, a design leadership program for educators, and is on the leadership committee for The Nueva School's Innovative Learning Conference, a biennial gathering for trends related to the future of education.
About CPS Lectures:
CPS Lectures is a free discussion series that takes place in San Francisco. It is a program of the nonprofit The diaTribe Foundation. The series honors the memory of Cyril Patrick Shaughnessy, Jr., Kelly's father, who died in late 2002 and loved discussions and learning.
- Parking on the street or at 45 Castro, one block away from the venue (our home) - the 24 MUNI bus also brings you to within a block of us.
- RSVP required for this free event. You will be given a chance to donate to the nonprofit, The diaTribe Foundation, when you register - this is completely optional. Thank you to all those who have given to date, which has been very generous and has helped enormously in our subsidy of the cost of drinks and food, occasional air tickets to speakers, and low-key management of the event. We continue to search for a community manager and appreciate any volunteer offers of help as well! (Our manager of the first 100 events has recently moved away from this position.)
- Please share our series with others – you can forward this invite or invite people to sign up at www.cpslectures.com. If you RSVP yes and have to cancel, please do so within 24 hours of our event or risk not receiving the next invitations!
Thank you so much for so much encouragement and support of this series. We so hope to see you on March 1st and we look forward to what we know will be a most compelling discussion.