CPS Lecture #106: Catherine Newman on Catastrophic Happiness: Finding Joy i...
Description
CPS Lecture #106: Catherine Newman on Catastrophic Happiness: Finding Joy in Childhood's Messy Years
We are overjoyed to announce that author, blogger, and columnist Catherine Newman will be speaking on Monday, October 10th at the first CPS Lecture of the fall! Catherine gave CPS Lectures #12 (!) in 2005, reading from her beloved book "Waiting for Birdy" that every parent friend of ours knows and loves : > and she is now back to read again! Please join us to hear Catherine read excerpts from her new book Catastrophic Happiness: Finding Joy in Childhood's Messy Years, in which she writes about her attempts to make "order" out of parenting, and her equally important realizations that this type of "order" may be ultimately unattainable – and even undesirable. In this memoir, she narrates the coming-of-age story of her two children, Ben and Birdy, now 16 and 13, along with all of the trials and joys that come along with parenting. "If you are a parent, this is the book you need to read," says Cammie McGovern, author of Say What You Will and A Step Towards Falling. If you are a parent, then, this is the lecture you need to attend, and if not, we can all certainly still relate to (and learn from!) Newman's chronicles of those impactful years of childhood that undeniably shape the rest of our lives. 
JOIN US on Monday, October 10th, 2016 at 7:30 pm for a book reading and follow-up discussion with beloved writer Catherine Newman, author of the newly published parenting memoir Catastrophic Happiness – a CPS lecture that will be sure to illuminate, inspire, and even unearth some old childhood memories.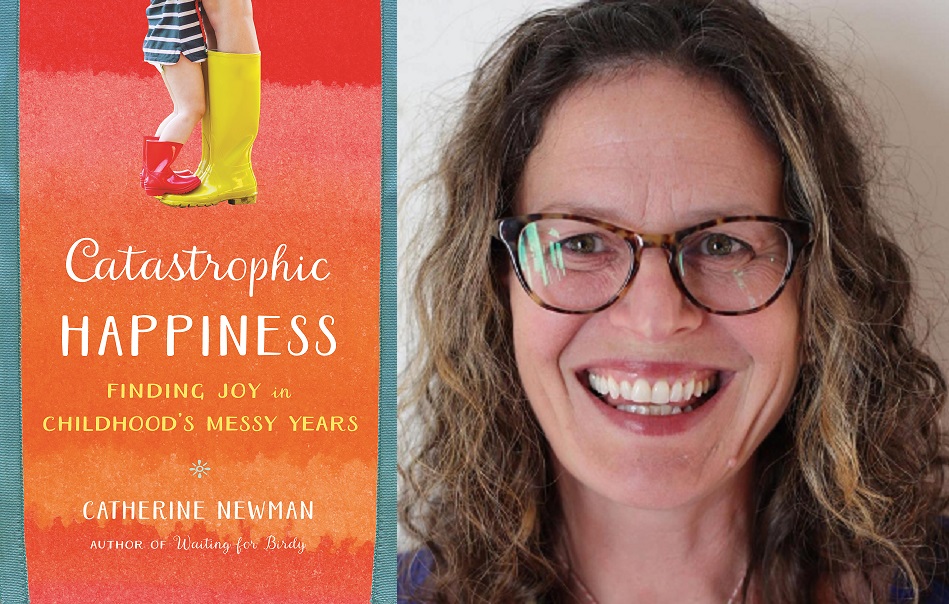 About Catastrophic Happiness 
Although Catastrophic Happiness is, in all respects, a book about parenting, it's unlike any other in the current canon of child-rearing tips and tricks. Rather, as Elissa Strauss of the New York Times Book Review writes, it is much more than just practical guidance – it is a "sensitive portrayal of the blurring of self that happens after one has children." It is, all at once, a series of essays, a memoir, a collection of personal stories that encompasses emotions ranging from joy to nostalgia, amusement to concern. It is a conglomeration of the multitude of messes and catastrophes of childhood, portrayed with full sincerity and ultimately bound into a work of happiness. Whether seeking inspiration, acknowledgment of parenting's successes and failures, or simply a hearty laugh, Catastrophic Happiness is a book for parents everywhere. If you can't come – we can get you your very own personalized book for just $15!
About Catherine 
Catherine Newman is the author of the memoirs Catastrophic Happiness: Finding Joy in Childhood's Messy Years and Waiting for Birdy, and the blog Ben and Birdy (link). She is also the etiquette columnist for Real Simple magazine and a regular contributor to the New York Times, O, The Oprah Magazine, The Boston Globe, and many other publications. Her first middle-grade novel will be published by Random House next year (the CPS Lectures audience will also receive the first sneak peek reading of this if we can persuade her ; >). Catherine lives in Amherst, Massachusetts, with her family.
About CPS Lectures
CPS Lectures is a free discussion series that takes place in San Francisco. It is a program of the 501c3 The diaTribe Foundation. The series honors the memory of Cyril Patrick Shaughnessy, Jr., Kelly's father, who died in late 2002 and loved discussions and learning.
‐ Parking on the street or at 45 Castro, one block away from the venue (our home) - the 24 MUNI bus also brings you to within a block of us. 
‐ RSVP required for this free event. You will be given a chance to donate to the nonprofit, The diaTribe Foundation, when you register - this is completely optional. Thank you to all those who have given to date, which has been very generous and has helped enormously in our subsidy of the cost of drinks and food, occasional air tickets to speakers, and low-key management of the event. We continue to search for a community manager and appreciate any volunteer offers of help as well! (Our manager of the first 100 events has recently moved away from this position.)
‐ Please share our series with others – you can forward this invite or invite people to sign up at www.cpslectures.com. If you RSVP yes and have to cancel, please do so within 24 hours of our event or risk not receiving the next invitations!
Thank you so much for so much encouragement and support of this series. We so hope to see you October 10th and we look forward to what we know will be a most compelling reading and discussion.