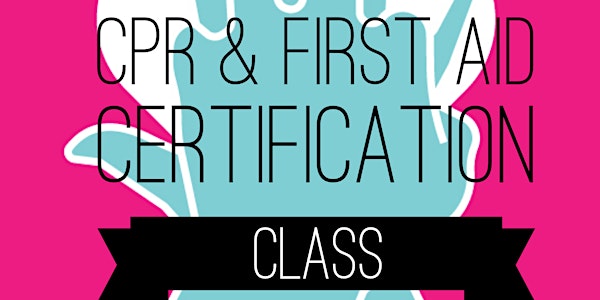 CPR & First Aid Certification Class
**18+ & must be fully vaxxed. You will also be given 1 free hour rental at Dungeon East.
Date and time
Saturday, June 17 · 4 - 5pm PDT
Location
Dungeon East DTLA Los Angeles, CA 90021
Refund Policy
Contact the organizer to request a refund.
Eventbrite's fee is nonrefundable.
About this event
**This class is open to anyone over 18 who is fully vaccinated.  You will be certified in CPR & First Aid upon successful completion.  You will also be given 1 free hour of dungeon rental time at Dungeon East.**
CPR - Cardiopulmonary Resuscitation
This class teaches participants how to respond to life-threatening emergencies. It focuses on primary care through a combination of knowledge development, skill development and realistic scenario practice to make sure participants have the confidence in their ability to provide care when emergency situations arise.
Class Content:
Before giving care and checking an injured or ill person (recognition, taking action, calling EMS, scene size-up, barrier use, checking a responsive/unresponsive/injured/ill person)
Cardiac emergencies and giving CPR (heart attack, cardiac arrest, giving CPR)
Choking (recognizing and caring for choking)
CPR Age Groups:
Adult: Over 12 years old
Children: 1 to 12 years old / puberty
Infant: Under 1 year old
Class Time: 1 hour for the skills only which takes place in our studio
2.5 hours of online complete on your own
Certificate: 2 years 
Who should take this class: All lay rescuers, teachers, personal trainers, fitness instructors, employees in the workplace, day care workers, babysitters, airline personnel, security guards, bus drivers, new parents, camp counselors, coaches, and those who may need to respond to an emergency. 
First Aid
This class will help participants recognize and respond appropriately to basic first aid emergencies. It teaches skills that participants need to know to give immediate care to a suddenly injured or ill person until more advanced medical personnel arrive and take over.
Class Content:
Checking an injured or ill person
Sudden illness (shock, breathing emergencies, asthma, anaphylaxis, diabetic emergencies, seizures, fainting, stroke)
Injuries (bleeding, burns, muscle/bone/joint injuries, head/neck/spinal injuries)
Environmental emergencies (heat related illness, cold related emergencies, frostbite, poisoning)
Certificate: 2 years 
https://www.cprlosangeles.com/
About the organizer
Mistress Justine Cross is a professional BDSM consultant and queer lifestyle Dominatrix . She owns Dungeon East (RIP Dungeon West.) Justine is an educator, a provocateur and all around bad ass Bitch. Justine offers classes in person, online and private tutorials; she also hosts BDSFemme - a play party for cis and trans women and co-hosts Chroma - a queer play party by Invite only.
Extensively interviewed and profiled, Mistress Justine has appeared in Los Angeles Magazine and Playboy, and featured in Nylon, LA Weekly, Time Out Los Angeles, Buzzfeed and Salon. She has also appeared as herself on A&E, Lifetime, Epix, VH1 and an upcoming remake of House Party.
Please visit her website: LosAngelesDominatrix.com.
Follow her on insta/clubhouse @thejustinecross and twitter: @justineplays; tiktok @thejustinecrossagain
Website: TheJustineCross.com
Replays for past classes here: Gumroad.com/justinecross