CPR AED & First Aid Blended - Online learning (at your pace) & in-person sk...
Description
This class is for both initial or renewal certification.
Do the 1st part of the course online whenever you want (including the written exam online), and print your certificate granting you entrance to the skills practice session & skills test with Grand Rapids Healthcare Training....
....and walk out with your American Heart Association CPR AED & First Aid card in hand.

Blended learning is a combination of eLearning (part of the course online), followed by a hands-on session in our office.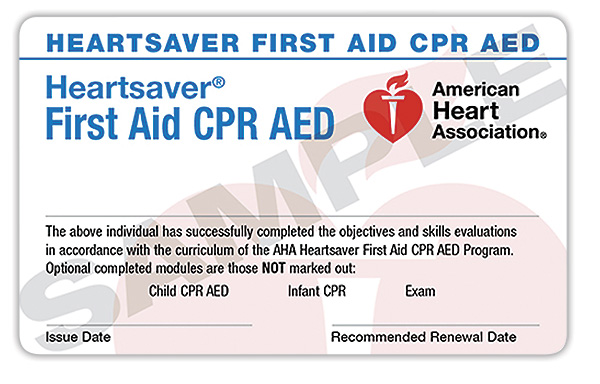 Above is the card you will get immediately at the class. Ask your boss if this is the one you need. Cards are good for 2 years from the time they are issued.
Yes, this is the same as the full 4 hour class, but you only spend 2 hour and 45 minutes online plus 1 hour in class. Note that the in-person, hands-on component must be completed at our office before your card will be issued. Beware of online programs that are not offered through the American Heart Association, as they are typically not accepted by organizations that require CPR AED & First Aid certification.

We GUARANTEE that your institution will accept your certification for CPR AED & First Aid Card regardless of whether the course is taken in traditional classroom or blended learning format.

You get:
Access to the course
Skillcheck
The convenience of completing the course at your own pace at work, home, or wherever Internet access is available
Can be used for initial or renewal training
IInteractive exercises and videos

Students have access to all information in the online course for 24 months

Includes audio and transcript for any of our students who may have a hearing or visual disability
No book to buy
The certification card issued at the end of the mandatory in-person skills testing session is identical to the full classroom-based version of the course, and there is no way of knowing whether the participant elected the traditional classroom format or blended learning option.
The access key code and instructions on how to log in to the course will be e-mailed to you within 24 hours of orders placed between 730am-530pm Monday-Friday. If order is placed on Friday after 5pm the key code will be emailed Monday morning.
Legal stuff: The American Heart Association strongly promotes knowledge and proficiency in BLS, ACLS, and PALS, and has developed instructional materials for this purpose. Use of these materials in an educational course does not represent course sponsorship by the American Heart Association, and any fees charged for such a course do not represent income to the Association.
FAQs:
Q: Are there ID requirements?
A: Just bring the online completion certificate you will get, no other ID needed.
Q: What are my transport/parking options?
A: Tons of free parking in out lot. We are also on the Rapid Line with a stop outside our office (check the Rapid info for: 44th at 2186 44th (#746).
Q: What can/can't I bring to the class?
A: Please don't bring your children, but pretty much anything else is ok...yes, you can bring food & drink in (as long as you share....just kidding).
Q: Can I contact someone if I have any questions?
A: Sure. My name is Jeff. My phone number is 616-947-1007 and my e-mail is jeff@grhealthcare.net
Q: Do I have to bring my printed ticket to the event?
A: Yes. Also bring the printout from part one of the class that you'll do online.
Q: What is the refund policy?
A: We are required to purchase items for every person who attends our classes, so there are no refunds.
Q: The name on the registration/ticket doesn't match the attendee. Is that okay?
A: For this class please make sure that you have the correct name and spelling of the person attending.We are required to purchase codes for every person who attends our classes, so there are no refunds.