Description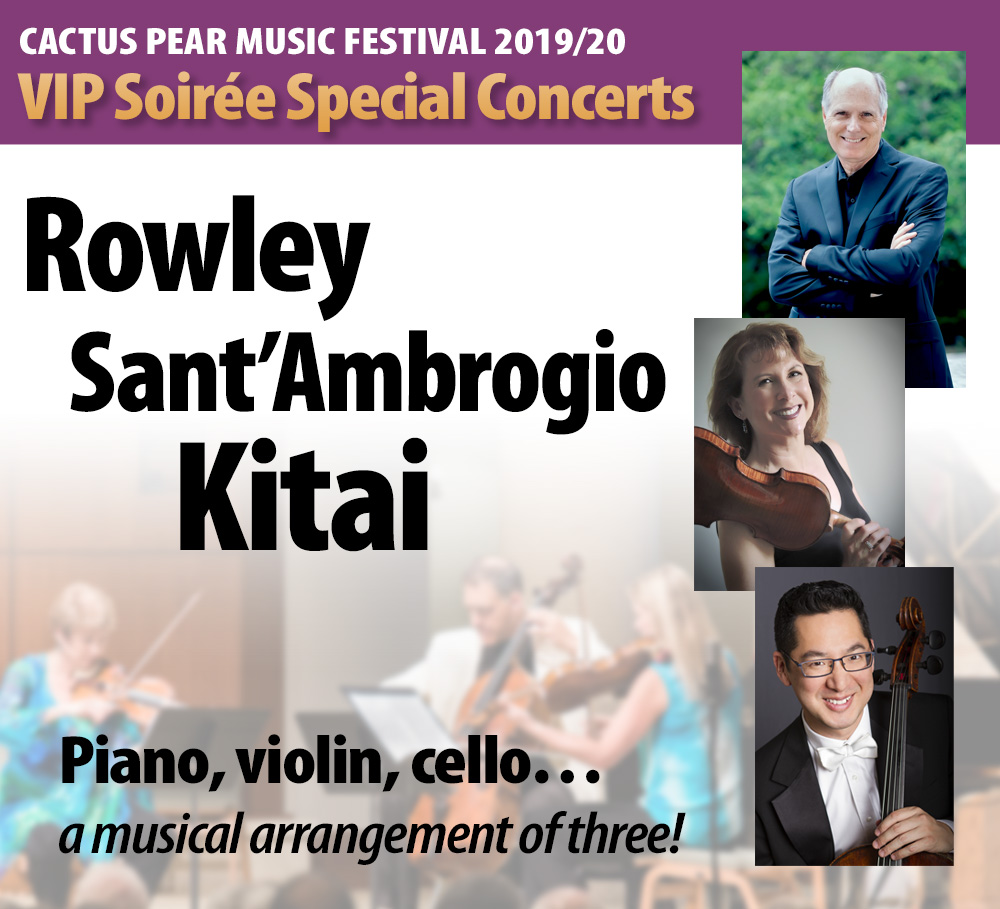 A "Menage à Trois" VIP Concert: 3 PM SUNDAY, NOV. 3, 2019
— featuring a scintillating program of trios, solos and duos, with music by composers Turina, Chopin, Fauré, Gershwin, Beethoven and more.


Rick Rowley leads a diverse musical life. He has given concerts with many of the world's finest instrumentalists and singers and his solo, concerto and collaborative performances have taken him throughout the United States, to Europe and Latin America. He annually performs solo and chamber music concerts and has been presenting recitals of Mozart Piano Sonatas for Mozart Festival Texas in San Antonio. He has recorded piano music of Chopin, Liszt, Granados, Mompou and American composers David Guion, Richard Cumming, Aaron Copland and Samuel Barber. He is heard frequently on broadcasts of live performances from the BSOM and his solo piano performances have earned him the Austin Critics' Table award for Instrumentalist of the Year and 10 Best Performances of Music and Dance by the Austin Chronicle.
Described as a "violinist who most often takes your breath away" by Gramophone Magazine, Stephanie Sant'Ambrogio enjoys a varied performing and recording career as a soloist, chamber musician and orchestral leader. She has performed as a chamber musician on the foremost stages of the U.S., as well as in Canada, Estonia, Sweden, Ghana, Italy, Peru, Chile and Mexico. Professor of Violin and Viola at the University of Nevada, Reno, she is also Artistic Director of Cactus Pear Music Festival, which she founded in 1997 while serving as Concertmaster of the San Antonio Symphony. Former First Assistant Principal Second Violin of The Cleveland Orchestra under Christoph von Dohnanyi, she toured and recorded internationally with this ensemble for eight seasons, and she is currently Concertmaster of the Fresno Philharmonic Orchestra under Rei Hotoda.
Anthony Kitai has been with the Houston Symphony since joining n 2001. Appearing as soloist as well as chamber musician in musical festivals including Grand Teton, Schleswig-Holstein, Zenith, Allegra and Aspen, he has performed with Mercury Baroque, and on Aperio, Col Canto, Foundation for Modern Music, and Woodlands Salon Series Concerts. He frequently collaborates with his wife, pianist Shannon Hesse, and has performed with her on the Galveston Island Arts Academy Concert Series, Greenbriar Consortium Concerts, Houston Community College Chamber Music Series, Imperial Performing Arts, Louisiana State University Manship Guest Series, and Westminster Summer Concerts.


VENUE: the home of Dr. Jeff Glass
The ticket price includes an exquisite VIP reception of fine wines, a substantial buffet, desserts and, of course, the company of music lovers like yourself.
Chamber Music As It Was Meant to Be Heard
If you've never heard chamber music performed as it was intended to be experienced in the "chambers" of palaces, estates and villas, then you've not had the pleasure of true chamber music. 
The intimacy of the venues, the closeness of the performing Artists and the delightful company of like-minded music lovers make for a truly memorable afternoon.

Book your seat with us today for the Nov. 3rd concert! (Use the green ticket button upper right.)
We look forward to sharing a wonderful house concert experience with you and friends.