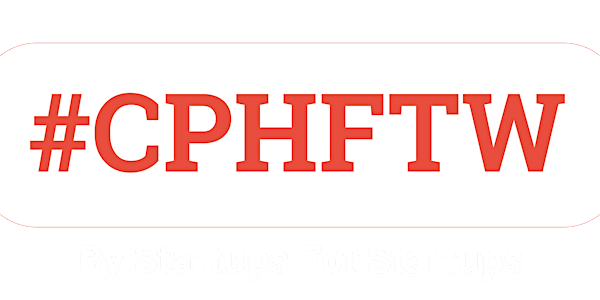 #CPHFTW Townhall #6
When and where
Location
KPH Volume Enghave 80 2450 København SV Denmark
Description

Join us for Townhall #6 on October 29 at 18.00 at KPH Volume for an inspirational event filled with practical insights.

Theme:
This time we'll focus on "How to". We'll take a look at different perspectives on how to build a successful start-up. The keynotes will feature stories and learnings from people who have tried, failed, succeeded and learned along the way.
Sure – there might not be one road to success, but the learnings and point of views the keynote speakers have will give you the insights, knowledge and inspiration you and your team can use to move forward.
Keynote speakers:
We have a great lineup prepared and are thrilled to announce that our keynote speakers will be:
Christoph Janz: Co-Founder & Managing Partner at Point Nine Capital

Christoph is the Zendesk angel investor and is behind Point Nine Capital, The Angel VC.

Point Nine Capital is an early-stage venture capital firm with investments in numerous SaaS and online marketplace companies worldwide.

Christoph will do a fireside chat on the state of SaaS, ecosystems around the world, fundraising, and lessions gained from being involved with Zendesk from the very beginning.
Ida Tin: Co-Founder and CEO of CLUE

Ida is out to change female health and her and Clue's goal is to give people a way to track and discover the unique patterns in their cycle, for every stage of life.

They believe that technology, connected to the mobile phone, is the future of family planning.

Clue makes an app designed to make tracking fertility accurate, fast and friendly.

Clue recently raised Series A funding round of $7 million from some of the most respected investors in the world, Union Square Ventures (New York) and Mosaic Ventures (London).

Kenneth Auchenberg: Profilic Front-end Developer, Community Builder and All-round Nice Guy

Kenneth is not only known for making it easier for all to build for the web. He organizes Coldfront, the front-end conference and he is a co-founder of the co-working space Prototype. Kenneth also calls himself a Global Shaper Under World Economic Forum and a mentor at StartupBootcamp.

Before this he was at Zyb, Podio and later Citrix, where he did too many awesome things to mention here.

Kenneth will talk about the state of the frontend.
Besides the keynote speakers we have some cool startups lined up for you. They will be introducing themselves, their product and ambitions for the future.
Startup introductions:
We also have some passionate community builders, who wants to talk about their initiatives and meet-ups.
Community initiatives:
Remember: The bar is free as always.
And please make sure all your tech startup friends also know by sharing on Twitter, Facebook, email etc.
Have a question? Reach out to Doug Costello - dc@cphftw.dk