CPEN Review - Joe DiMaggio Children's Hospital at Memorial - Hollywood, FL

Wednesday, October 9, 2019 from 8:00 AM to 5:00 PM
Event Details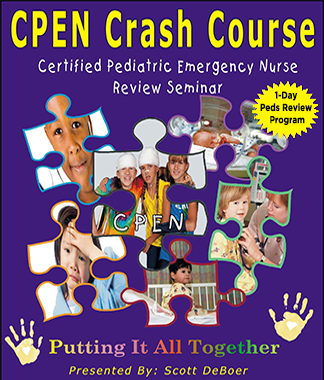 Hosted by Joe DiMaggion Children's Hospital at Memorial Emergency Department
This one-day, fast-paced  "crash" review seminar is for emergency nurses who provide urgent and emergent nursing care to pediatric patients and their families that want to validate their skills and expertise by sitting for the CPEN exam.  Earning the CPEN credential demonstrates extensive knowledge and experience related to pediatric emergency nursing care. This review program is designed to give the participant easy ways to remember important tips & tricks pertaining to pediatric emergency nursing. Any nurse that wants to be more fully prepared for the CPEN credentialing examination or just wants a solid peds emergency review should attend. The instructor has entertaining and helpful videos, real-life case studies, and a unique game show style test review session that is sure to leave attendees feeling more confident in their pediatric skills and better prepared to... Challenge and Pass the CPEN Exam! 
 0730-0800 Sign-in and Continental Breakfast 
 0800-0900 Respiratory Emergencies –  Working & Wheezing
 0900-0910 Break
 0910-1010 Cardiovascular Emergencies – Congenital Hearts & CPR
1010-1020 Break
1020-1120 Neuro/Psych Emergencies - Neuro Nightmares & Dysfunctional Dilemmas
1120-1130 Break
1130-1230 Environmental Emergencies -Drowning, Drugs, Bugs, Bites, & Radical Rashes
1230-1330 Break for Lunch - Provided
1330-1430 Abdominal & OB/Neonatal Emergencies –  Bellies, Birth, & Babies
1430-1440 Break
1440-1510 Endocrine Emergencies  - Hormones & Haagen-Dazs
1510-1520 Break
1520-1620 Orthopedics & Pain Management -  Bumps, Breaks, Morphine, & Monitoring
1620-1700  Miscellaneous Medical Emergencies – Remaining Reminders and
 Pediatric Pearls & Jeopardy Jewels  (Game Show CPEN Test Review)
Speaker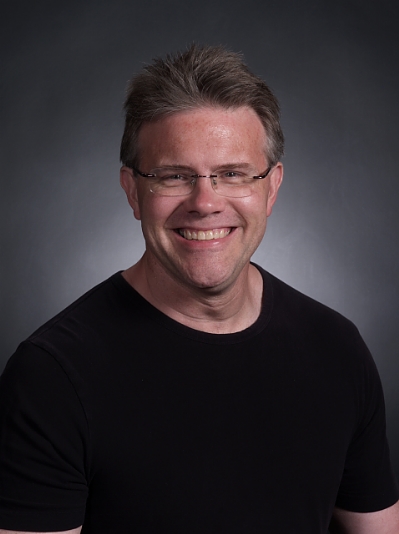 Scott DeBoer, RN, MSN, CPEN, CEN, CCRN, CFRN, is an internationally recognized pediatric emergency nurse expert.  Scott has been presenting to thousands of nurses around the world for nearly 20 years.  In addition to his extensive training in emergency, critical care, and flight nursing, he was also one of the original beta testers for the CPEN exam. Scott has co-authored nearly 100 medical articles for nurses, paramedics, and respiratory therapists. Scott also wrote the very first CPEN Review book in 2010, and has since updated his CPEN review book, "Putting It All Together", into its now 3rd edition, that includes over 1000 review questions. Scott created this 1-day, highly interactive review seminar to hit key content areas found on the CPEN examination.  Often called the "Jim Carrey" of the emergency nursing world, Scott's use of humor and personal experiences will have nurses laughing as they learn.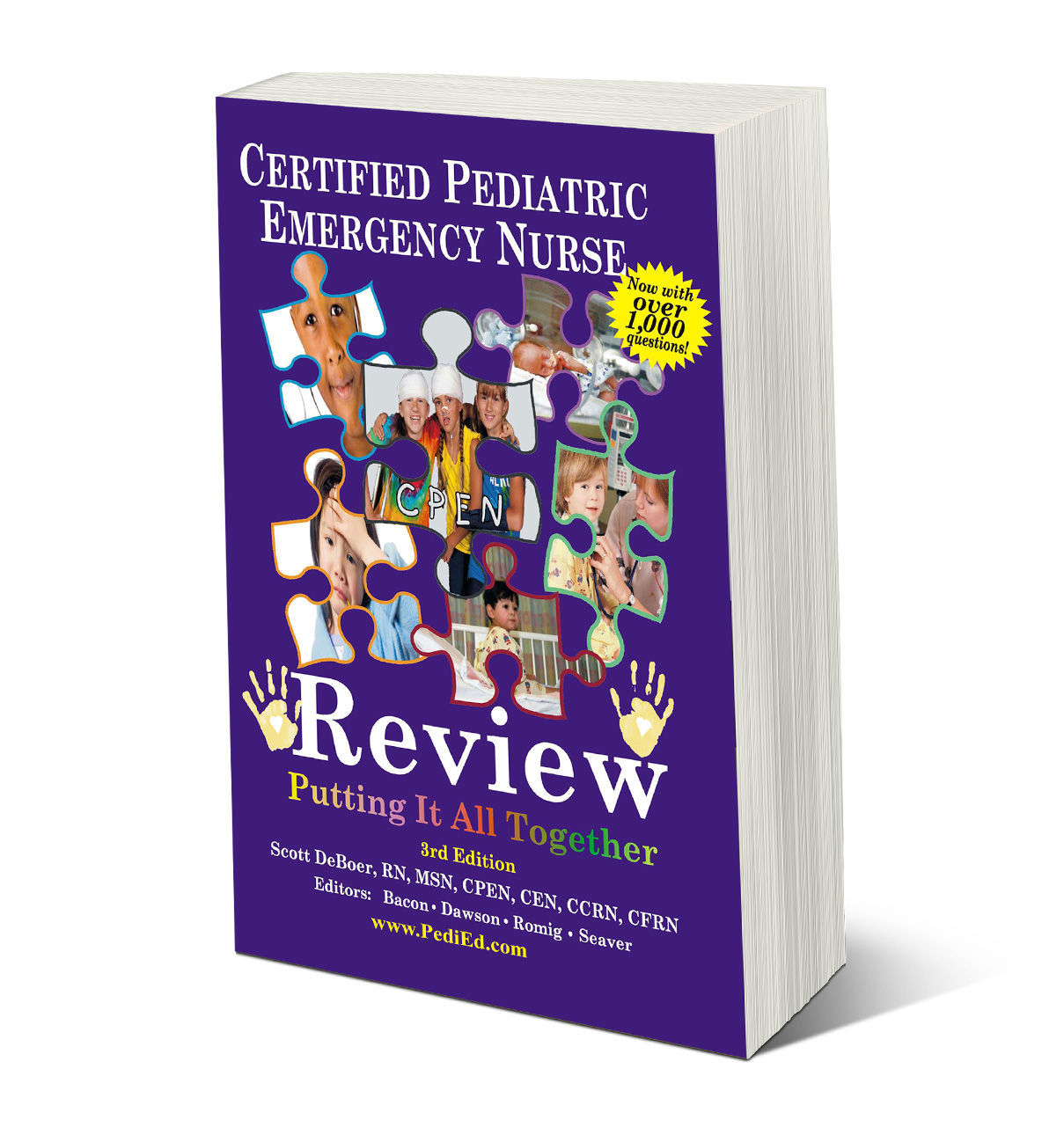 Review Materials
Comprehensive printed handouts will be provided to all attendees upon morning sign-in. 
Scott's CPEN Review book is a recommended prep for the CPEN exam, but is not required to attend this seminar. 
*A limited number of Scott DeBoer's CPEN Review books will be made available at the live seminars or can be purchased in advance on Amazon.com or PediEd.com 
Credit Hours
Credits are available for: Nurses and EMS Personnel
(Physicians are welcome to attend, but CMEs are not available)
The process for submitting your contact hours is automated.  Within 24 hours following the course, you will need to complete an evaluation and provide your licensure information.  Your course certificate will immediately be emailed to you as confirmation of receipt of your information.   ** We cannot submit your contact hours without this information **  Requests for certificates/CEUs after 24 hours require a $25 fee.

Nursing - 7 contact hours for nurses - ENA code: 190315-IN2-CR-1.  ENA has approved 7 Contact Hours Category of Clinical;  7 meet Pediatric requirements and ENA has approved 3 Contact Hours Category of Trauma.  This activity was approved by the Emergency Nurses Association, an accredited approver of continuing nursing education by the American Nurses Credentialing Center's Commission on Accreditation (ANCC).
EMS - 7 credit hours for paramedics - This continuing education activity is approved by the Commission on Accreditation for Pre-Hospital Continuing Education (CAPCE) for 7 hours.  Type: Advanced.   Provider: IEDT9052.  Course Number: 19-IEDT-F2-0004.  You have participated in a continuing education program that has received CAPCE approval for continuing education credit.  If you have any comments regading the quality of this program and/or your satisfaction with it, please contact CAPCE at: PO Box 293835, Lewisville, TX 75029 - 972.247.4442 - jscott@capce.org
FAQs
Will food be provided? 
Yes, a continental breakfast and lunch will be provided.  Please bring your own drinks and snacks, as there is no onsite vending available.

What is the cost?
The cost is $150 per person.  Reimburesemnt is available for MHS Employess (only) after passing the CPEN Exam.
Are Refunds and Substitutions Allowed?
NO refunds, but substitutions are allowed up to two weeks prior to the event.

Where can I contact the organizer with any questions?
Cathy Sakers -  email: csakers@mhs.net
Where can I purchase Scott's CPEN Book before my seminar?  I want to start reviewing now.
Scott DeBoer's CPEN Review Book is available for purchase at any time on Amazon.com or the PediEd.com websites. Books need to be ordered separately from your seminar registration. 
How do I sign up to take the CPEN test?
First, www.bcencertifications.org for more information on the exam and to complete your application.
When & Where

Memorial Regional Hospital (Garage) - Conference Center
3501 Johnson Street
Classroom #3
Hollywood, Florida 33021


Wednesday, October 9, 2019 from 8:00 AM to 5:00 PM
Add to my calendar
Organizer
Formerly Peds-R-Us Medical Education, now known as Pedi-Ed-Trics. We provide entertaining pediatric speakers and continuing education programs around the world for all levels of medical professionals. Founded in the late 1990's by Scott DeBoer, former flight nurse with over twenty-five years of transport experience and his wife Lisa, a former medic. Pedi-Ed-Trics is now one of the largest dedicated Pediatric Emergency Medical Education company in the United States.