Description
What will you do this summer? Update 3 and last
Make sure you add June 29th and 30th in Zurich to your summer plans.
On June 29th the Europe Chapter of the CPCU Society and Insurance Institute of Switzerland (IIS) will present an innovative seminar on General Data Protection Regulation (GDPR) in one of the best learning locations in all of Switzerland. This session will start at 10:00 am on Friday.
We will cover this critical regulation from multiple perspectives to provide you with the information you need for your business. This seminar is free for CPCU's whom have paid their 2018 dues. Location details and ticket prices for non CPCU's can be found here: https://www.conferize.com/gdpr-in-the-cloud
Contact us if you need more information on this one-of-a-kind event.
The day will close with a casual dinner (self-pay) on Friday evening at:
Restaurant Wunderbrunnen
Dorfstrasse 36
8152 Opfikon
Tel: +41 44 810 24 24
www.wunderbrunnen.ch
On Saturday, June 30th we will move to the offices of AAA Insurance at Müllackerstrasse 10, 8152 Opfikon-Glattbrugg (15 minutes from downtown Zurich) for the Chapter meeting and seminars. Here is the updated agenda: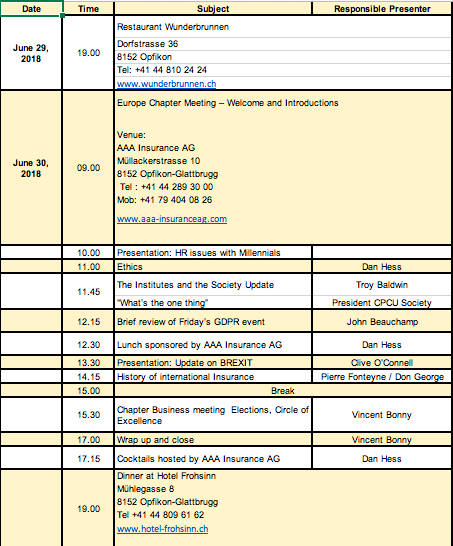 Please note that the Saturday dinner is free for CPCU's who have paid their 2018 dues. There will be a CHF 60.00 charge for all other participants.
A guided tour of Zurich and surroundings is planned for Sunday, July 1, 2018. More details will be provided upon request.
FAQs
How can I contact the organizer with any questions?
Please use any of the listed e-mail addresses for your questions
What's the refund policy?
The refund will be processed in 7 days for the conclusion of the event.
We have booked a block of rooms, first come, first served basis, at the Hotel Frohsinn
Mühlegasse 8
8152 Opfikon-Glattbrugg
Tel +41 44 809 61 62
www.hotel-frohsinn.ch

Just mention CPCU and Daniel Hess to get your special room rate for the weekend.
I would like to join the Sunday sightseeing group
Please write to Dan Hess at dh@aaa-insuranceag.com for complete details on the plans and costs for the day