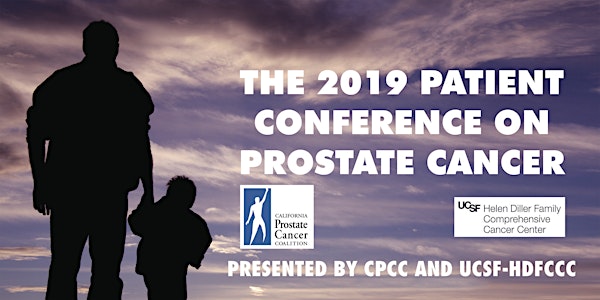 CPCC and UCSF Present: The 2019 Patient Conference on Prostate Cancer
Location
UCSF Cole Hall Auditorium
513 Parnassus Avenue
San Francisco, CA 94143
CPCC and UCSF Present: The 2019 Patient Conference on Prostate Cancer
About this event
CPCC and UCSF Present: The 2019 Patient Conference on Prostate Cancer
Effective Shared Decision-Making requires that the patient and his doctor be INFORMED in order to make the best decisions. This Conference will help patients become informed so that they can think about their care, discuss their case with their doctors and others, and join in effective informed decision-making.
A stellar faculty including Eric Small, MD; Peter Carroll, MD, MPH; Matt Cooperberg, MD, MPH; Mack Roach III, MD; Felix Feng, MD; June Chan, ScD; Leonard Marks, MD; Joseph Scherger, MD, MPH; Thomas Hope, MD; Alan Shindel, MD, and many others will present during the day-long Conference.
Topics will include
Prostate Cancer Basics
Genetics and Genomics
Immunology
Clinical Trials
ABCs of Androgen Deprivation Therapy
Low-Risk Disease and Active Surveillance
Treatment of Metastatic and Non-Metastatic Disease
Systemic Therapy
Imaging
Diet & Exercise
Managing Side Effects, Access to Care
Intimacy and Sexual Function
Intended audience: Patients, Families, Caregivers, Health Care Providers, Advocates, and all those interested in information and tools to make informed decisions in prostate cancer.
Ample time will be provided for the attendees to mingle with faculty, ask questions and network with other patients. Check-in and light breakfast begin at 7:00 am. Early Registration is encouraged to help with planning. The cost for the Conference, including continental breakfast, lunch and printed materials for each attendee is:
$35 per person until March 28;
$40 per person March 29 until May 15;
$50 per person May 16 until June 8.
Refund Policy: Contact Tiffany - trazzo@naspcc.org
A limited number of coupons for discounted parking at Millberry Union Public Garage, 500 Parnassus Ave., can be picked up at the Conference.
Full Agenda can be found here