CPAP Alexandria Roundtable on Leadership and Administration: "Six Drivers for Transforming Government"

Tuesday, December 3, 2013 from 5:00 PM to 6:30 PM
Event Details
Sponsored by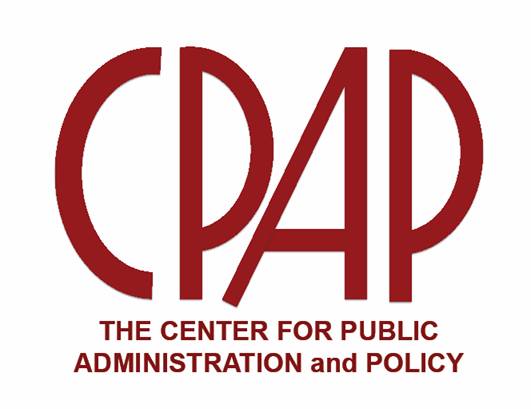 Roundtable on Leadership and Administration:
"Six Drivers for Transforming Government"
An IBM Center for the Business of Government Special Report 
Tuesday, December 3, 2013
5-6:30pm
Virginia Tech Center for Public Administration and Policy
1021 Prince Street, Alexandria, Va.
Report Link:
http://www.businessofgovernment.org/report/six-trends-driving-change-government
Moderator
Mark A. Abramson is President of Leadership Inc., a company specializing in assisting leading corporations and non-profits in the development of thought leadership, including publications and events. In 1998, he helped create the IBM Center for the Business of Government.  He served as Executive Director of the IBM Center for the Business of Government from 1998 to 2007.  During his tenure, the IBM Center published more than 200 reports and books examining a variety of topics related to the management of government and public service. As Executive Director, he oversaw all Center publications, Center events for government executives, The Business of Government magazine, the Business of Government radio hour, and the Center's website.  At the Center, he planned and administered over 50 events for government executives. He is currently a consultant to the IBM Center. 
Earlier in his career, Mr. Abramson was one of the founders of the Council for Excellence in Government.  He served as first President of the Council, serving from 1983 to 1994. While at the Council, he was instrumental in creating the Principals program, the Prune Book series, and the Excellence in Government Fellows program. From 1977 to 1983, Mr. Abramson served as a senior program evaluator in the Office of the Assistant Secretary for Planning and Evaluation, U.S. Department of Health and Human Services.  From 1979 to 1983, he led a four-year evaluation study of the impact of the Civil Service Reform Act of 1978 on the department.  From 1975 to 1977, he was a research associate at the National Academy of Sciences/National Research Council.  While at NAS/NRC, he wrote The Funding of Social Research and Development. Mr. Abramson's career includes serving as a Faculty Member in the Department of Public Administration and International Affairs at George Mason University in Fairfax, Virginia.   He also served as an adjunct faculty member at the Federal Executive Institute in Charlottesville, Virginia.
Panelists
Dan Chenok is Executive Director of the IBM Center for The Business of Government. He oversees all of the Center's activities in connecting research to practice to benefit government, and has a special focus on technology, regulation, budget, and acquisition issues.  Mr. Chenok previously led consulting services for Public Sector Technology Strategy, working with IBM government, healthcare, and education clients.  In addition, he is the Chair of the Cybersecurity Subcommittee of the DHS Data Privacy and Integrity Advisory Committee, Vice-Chair of the Industry Advisory Council Executive Committee, CIO SAGE with the Partnership for Public Service, Chair of the Policy Coordinating Committee for the National Strategy for Trusted Identities in Cyberspace Identity Ecosystem, Fellow of the National Academy of Public Administration, and generally advises public sector leaders on technology policy.
Before joining IBM, Mr. Chenok was a Senior Vice President for Civilian Operations with Pragmatics, and prior to that was a Vice President for Business Solutions and Offerings with SRA International.  As a career Government executive, Mr. Chenok served as the Branch Chief for Information Policy and Technology with the Office of Management and Budget. He led a staff with oversight of federal information and IT policy, including electronic government, computer security, privacy and IT budgeting. Chenok left the government in 2003.  In 2008, Mr. Chenok served on President Barack Obama's transition team as the Government lead for the Technology, Innovation, and Government Reform group, and as a member of the OMB Agency Review Team.  Mr. Chenok has won numerous honors and awards, including a 2010 Federal 100 winner for his work on the presidential transition.
Michael Keegan has two decades of experience with both the private and public sectors encompassing strategic planning, business process redesign, strategic communications and marketing, performance management, change management, executive and team coaching, and risk-financing. Mr. Keegan hosts and produces the IBM Center's The Business of Government Hour. He has interviewed and profiled hundreds of senior government executives from all levels of government as well as recognized thought leaders focusing on a range of public management issues and trends. Over the last four years, Mr. Keegan has expanded both the show's format and reach – now broadcasting informational and educational conversations with dedicated public servants on two radio stations five times a week and anywhere at anytime over the web and at iTunes. Mr. Keegan is also the managing editor of The Business of Government magazine, with a targeted audience of close to 14,000 government and non-government professionals.  Additionally, he manages the Center's bi-annual proposal review process that awards stipends to independent, third party researchers tackling a wide range of public management issues.
Prior to joining the Center, Mr. Keegan worked as a senior managing consultant with IBM GBS (Global Business Services) and as a principle consultant with PricewaterhouseCoopers' Washington Consulting Practice (WCP). He led projects in the private and federal civilian sectors including the U.S. Department of Energy, U.S. Department of Homeland Security, Centers for Medicare and Medicaid Services, FEMA, and the Veterans Health Administration. Before entering consulting, he worked in the private sector as product development manager at a New York City based risk financing firm. Since 2003, Mr. Keegan has been a reviewer for Association of Government Accountant's Certificate of Excellence in Accountability Reporting (CEAR)© program, keeping abreast of the most recent developments in authoritative standards affecting federal accounting, financial reporting and performance measurement.  He is also a member of APPAM, the NYU Alumni Association, and the Data Center & Cloud Talent, USA.  He holds masters in public administration and management from New York University and was the founder of its DC alumni group as well as previous treasurer of the NYU graduate school's alumni board.
Gadi Ben-Yehuda is the Director of Innovation and Social Media for the Center for The Business of Government.  Mr. Ben-Yehuda has worked on the Web since 1994, when he received an email from Maya Angelou through his first Web site. He has an MFA in poetry from American University, has taught writing at Howard University, and has worked in Washington, DC, for nonprofits, lobbying organizations, Fleishman-Hillard Global Communications, and Al Gore's presidential campaign. 
Prior to his current position, Mr. Ben-Yehuda was a Web Strategist for the District of Columbia's Office of the chief Technology Officer (OCTO). Additionally, Mr. Ben-Yehuda has taught creative, expository, and Web writing for more than 10 years to university students, private-sector professionals, and soldiers, including Marines at the Barracks at 8th and I in Washington, DC. (The lattermost by far the most disciplined.) Mr. Ben-Yehuda is also a member of ACT-IAC.
When & Where

Virginia Tech
Center for Public Administration and Policy
1021 Prince Street
Alexandria, VA 22314


Tuesday, December 3, 2013 from 5:00 PM to 6:30 PM
Add to my calendar
Organizer
Center for Public Administration and Policy
Making Democracy Work in a Constitutional Republic
The Center for Public Administration and Policy promotes the common good of our constitutional republic and the advancement of public service by providing outstanding education, research, and outreach in the theory and practice of public administration, management, and policy. CPAP is comprised of one program, three locations -- Blacksburg, Alexandria and Richmond.
Visit CPAP's website to learn more about our master's degree program in public administration or our Ph.D. program in public administration.
CPAP Alexandria Roundtable on Leadership and Administration: "Six Drivers for Transforming Government"