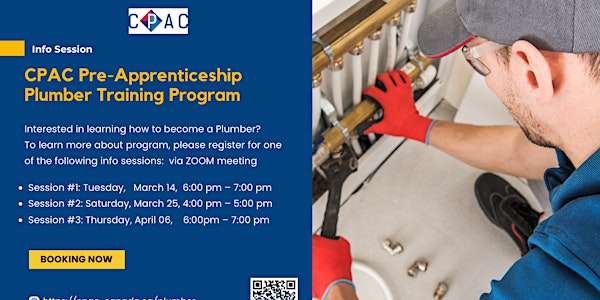 CPAC Pre-Apprenticeship Plumber Program Info Session #3 on April 6, 2023
Are you interested in becoming a plumber? Join an info session to learn about CPAC's Pre-Apprenticeship Plumber program.
Date and time
Thu, Apr 6, 2023 3:00 PM - 4:00 PM PDT
About this event
CPAC, in partnership with Seneca college, employers and other service providers, delivers a Pre-Apprenticeship Plumber Training Program to help young people enter the plumbing trade and start a gainful career.
Program Contents (18 weeks)
• Primary trade: Plumbing Basics Training (306A)
• Secondary trade: Introduction to Electrician Construction & Maintenance (309A)
• Trade communication and math, health & safety, & job readiness training
• Paid Work placement (8 weeks)
Fees:
This program is free to all eligible participants including free textbooks, basic plumbing tools and safety equipment. Also, all participants will receive a transportation subsidy after they complete the program successfully.
Eligibility Requirements:
• Canadian citizen or permanent resident status
• Canadian high-school diploma or a college/university diploma/degree from overseas (credential assessment is required for overseas education)
• CLB Level 5 for applicants with foreign credentials
• Commitment of 18 weeks of full-time training and work placement
To apply, please download 2023-Pre-Apprenticeship-Plumbing-Application-Form_Fillable and return the completed form with proof of education and resume to aliseen.bennett@cpac-canada.ca
For inquiries, Aliseen Bennett by email: aliseen.bennett@cpac-canada.ca or phone: (416)-298-7885 x 109
Info Sessions:
To learn more about program, please register for one of the following info sessions:
• Session #1: Tuesday, March 14, 6:00 pm – 7:00 pm
• Session #2: Saturday, March 25, 4:00 pm – 5:00 pm
• Session #3: Thursday, April 06, 6:00pm – 7:00 pm
For more information, please visit: https://cpac-canada.ca/plum ber-pre-apprenticeship-2/
About the organizer
CPAC is a non-profit organization serving a community of internationally trained professionals. For over two decades, CPAC has been helping immigrants with employment and career advancement, gaining necessary credentials, and accessing international business opportunities. CPAC is also an organization that assists them with cultural integration into Canadian society. The organization now has over 30,000 members from various cultural and ethnic backgrounds with a wide range of professional training and skills. CPAC members get access to a comprehensive package of services and benefits to enhance their life in Canada.