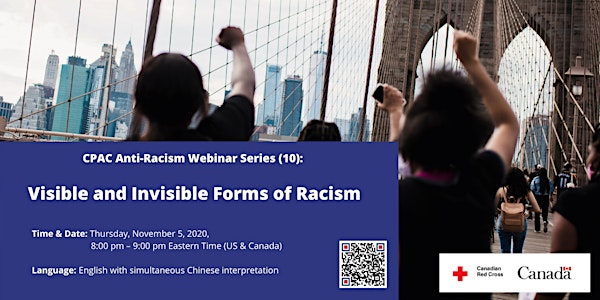 CPAC Anti-Racism Webinar Series (10): Visible and Invisible Forms of Racism
A brief History and Manifestation of Racism in Canada; Concepts and Examples Related to Racism; Manifestations of Racism in the Workplace...
Date and time
Thu, Nov 5, 2020 5:00 PM - 6:00 PM PST
About this event
In response to the recent rise of anti-Asian racism during the Covid-19 pandemic and to help Asian Canadians better deal with racist harassments, CPAC has assembled a group of experts from across North America to present a series of educational webinars for the community in both English and Chinese. The topics include: Racism and Its Visible and Invisible Forms, Discrimination and Human Rights, Responding to Racist Harassments and Attacks, Bystander Intervention, Preventing Racial Bullying in School, and Racism, Hate Crime and Personal and Property Safety.
This seminar, Visible and Invisible Forms of Racism, will uncover some deeply hidden history of racism against Chinese in Canada and discuss the many overt and covert forms racism and their impact on the Chinese Canadian community as they manifest on the street, in the work place and in our school system.
Specifically, this interactive webinar will cover the following important topics.
1. A brief History and Manifestation of Racism in Canada
2. Multiculturalism: its original intent
3. Concepts and Examples Related to Racism:
- prejudice, stereotypes, discrimination, racial discrimination, microaggression
- individual and systemic/institutionalized racism
- biases and misconceptions
4. Manifestations of Racism in the Workplace – Human Resource practices, glass and bamboo ceilings, underrepresentation and over-representation
5. Manifestations of Racism in Education - underrepresentation, omissions and exclusion; beliefs and practices; stereotyping and bias; micro-aggression and bullying
Date: Thursday, November 5, 2020
Time: 8 pm -9 pm ET
Languages: English, with simultaneous interpretation into Chinese
(Note: Our webinars will be recorded. If you cannot attend the live session, complete the registration form and a link to the recording will be emailed to you at a later date.)
PRESENTER: Teresa Woo-Paw
Ms. Teresa Woo-Paw is the first Asian Canadian woman elected to the Calgary Board of Education and the Alberta Legislature where she served as a Cabinet Minister.
Teresa was appointed as the Chair of the Canadian Race Relations Foundation in 2019 and is currently Chair of ACCT Foundation, Co-Chair of Asian Heritage Foundation, Chair of the Eco-Village of Hope, Board Member of Calgary Arts Foundation, Honorary member of the Korean Women's Association and the Malaysian Singapore Brunei Cultural Association. She is also the founder of the Ethnocultural Council of Calgary (Action Dignity) and the Calgary Chinese Community Service Association, and the President of Teresa Woo-Paw & Associates Ltd.
Teresa is a tireless advocate for diversity, inclusion and civic participation. As a consultant, she has provided diversity training for the Cultural Diversity Institute, the Calgary health region, United Way of Calgary, the Red Cross, Calgary Board of Education, the Calgary Immigrant Women's Association, and the Calgary Immigrant Aid Society.
CPAC Anti-Racism Webinar Series is funded by the Government of Canada through the Canadian Red Cross.

CPAC应对种族歧视行为系列讲座之十:首位亚裔女内阁部长揭秘显性与隐形的种族歧视
时间:2020年11月5日,星期四晚上8点(加东时间)
语言:英文讲座、普通话同声传译
请在本网站提前注册!
为帮助社区应对Covid-19疫情期间频繁抬头的针对亚裔的种族歧视问题,加拿大中国专业人士协会(CPAC)在美国和加拿大聘请了多位资深专家,通过视频为大家举办一系列的中英文讲座,内容囊括种族歧视及如何应对与处理的方方面面,例如种族歧视和仇恨罪及其表现方式,遭遇种族歧视如何应对,目击者如何正确协助,校园种族歧视和霸凌行为的应对和处理等等,敬请大家关注。
11月5日,星期四晚上8点,CPAC将邀请前阿尔伯塔省内阁部长、现任加拿大种族关系基金会主席Teresa Woo-Paw女士,以华人的经历为中心,通过多种实例为大家讲解种族歧视及其在加拿大社会各个领域和各个层面中各种显性的和隐性的表现形式,主要内容将包括:
1. 你所不知的加拿大种族歧视的简史
2. 多元文化政策的本来面目
3. 概念、实例和影响:
- 成见、种族脸谱化、模范族裔、微歧视、歧视、种族歧视
- 个体的和传统/制度化的种族歧视
- 偏见与现行的错误概念
- 多元与共容
4. 职场中的种族歧视 – 人事录用、升迁、竹天花板、成见、偏见、比例不足和比例过多、收入不均等
5. 教育界的种族歧视 – 领导层代表性不足、欧洲中心化、成见、种族脸谱化、微歧视、霸凌等
本场讲座将用英文讲解、普通话同声传译,请在本网页提前注册!
(请注意:我们的网络研讨会将被录屏。如果您不能参加现场会议,请填写注册表格,在整个系列讲座结束后,我们会通过电子邮件将录像链接发送给您。)
主讲人:Teresa Woo-Paw
Teresa Woo-Paw女士是首位当选卡尔加里市教育委员和阿尔伯塔省省议员并担任内阁部长的亚裔女性。
Teresa于2019年被任命为加拿大种族关系基金会主席,现任ACCT基金会主席,亚洲传统基金会联席主席,希望生态村主席,卡尔加里艺术基金会理事,韩裔妇女协会和马来西亚新加坡文莱文化协会荣誉会员。她还是卡尔加里种族文化理事会(尊严行动)和卡尔加里华人社区服务协会的创始人,也是Teresa Woo-Paw&Associates Ltd.公司的总裁。
Teresa坚持不懈地倡导多元、共容和公民参与。她曾作为专业顾问为多元化学院,卡尔加里卫生管理局,卡尔加里公益金,红十字会,卡尔加里教育局,卡尔加里移民妇女协会和卡尔加里移民援助协会提供了多元化培训。
本系列讲座均由加拿大联邦政府通过加拿大红十字会提供资金支持。
About the organizer
CPAC is a non-profit organization serving a community of internationally trained professionals. For over two decades, CPAC has been helping immigrants with employment and career advancement, gaining necessary credentials, and accessing international business opportunities. CPAC is also an organization that assists them with cultural integration into Canadian society. The organization now has over 30,000 members from various cultural and ethnic backgrounds with a wide range of professional training and skills. CPAC members get access to a comprehensive package of services and benefits to enhance their life in Canada.