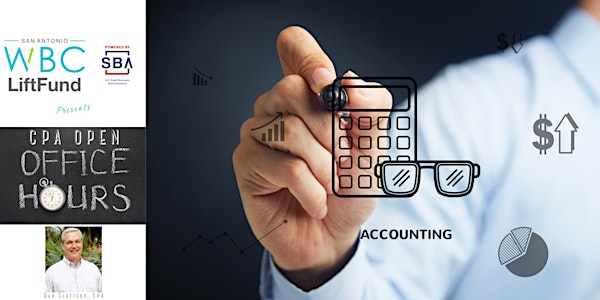 CPA Open Office Hours
Have questions only a CPA can answer? Join us for CPA Open Office Hours and get up to 30 minutes with Dan Slattery! Space is limited.
About this event
About this event
It is never too early to start thinking about tax preparations. Are you aware of how new tax regulations will affect your business? If you have any accounting questions that you'd like to discuss with a CPA, sign up for our CPA Open Office Hours event today! Current and aspiring business owners will have up to 30-minutes to meet with professional CPA, Dan Slattery, to discuss any accounting issues or concerns related to tax preparation, tax planning, bookkeeping, estate and trust taxes and so much more.
Space is limited, so register in advance to secure your spot. These consultations will not result in extended representation, though referrals will be provided to those needing additional CPA services.
About the SA WBC
The Liftfund Women's Business Center is dedicated to supporting entrepreneurs, especially women and minorities.
The LiftFund San Antonio Women's Business Center is funded in part through a Cooperative Agreement with the U.S. Small Business Administration. This institution is an equal opportunity provider and employer. Reasonable accommodations for persons with disabilities will be made if requested at least two days in advance. Contact SA WBC Customer Service at 888.215.2373 ext. 3000 or wbc@liftfund.com.
Are you new to the Women's Business Center?
We invite you to sign up for a 15-minute 1:1 business consultation with one of our business advisors. This is a perfect place to start for anyone new to the Women's Business Center. You'll find plenty of valuable information as well as next steps and special WBC Insider tips.
Register for a free business consultation HERE!