Description
Event Supporters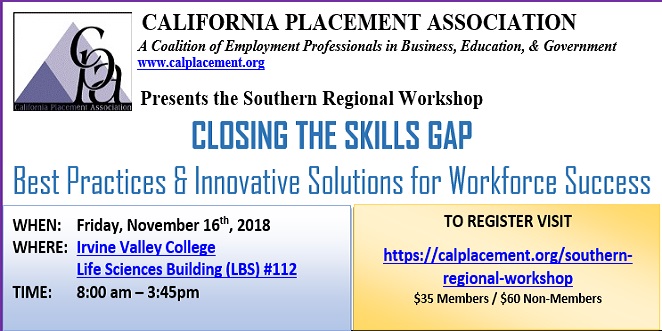 ---
HIGHLIGHTS OF OUR AGENDA: (agenda .pdf)
Program
8 - 8:30 Check-in
8:30 - 8:45 Welcome
8:45 - 10 Cory Vigil, Veteran / Peer Navigator, Strong Families Strong Children
Topic: Veteran's Employment Strategies & Supports
10 - 10:15 Break
10:15 - 11:30 Linda Duffy, Ethos Human Capital
Topic: Interviewing / People Reading using DiSC
11:30 - 12:30 Lunch
12:30 - 2:00 Employer Panel: Nike, Hyatt, MemorialCare, + one more in Manufacturing!

2:00 - 2:15 Break
2:15 - 3:30 Greg Johnson, LinkedIn Evangelist / Executive Coach / Career Strategist
Topic: LinkedIn as a Career Management Tool, not just Job Search Tool
3:30 - 3:45 Wrap up / evaluations
---
Additional details on speakers and employer panel coming...
---
PAYING BY CHECK INSTRUCTIONS:
1. Click the green 'REGISTER' button and select the ticket and quantity you want to purchase. You will need to enter details for each attendee on the next page.
2. Complete the registration form
3. Click 'Show' under 'Other Payment Options' field in the lower right corner of the form. (This is in small font, so look closely.)
4. Save or print the completed registration form for your records.
5. Submit your registration by clicking 'Pay by Check' blue button
---
Join us at California Placement Association's 2018 Southern Regional Workshop: "Closing the Skills Gap: Best Practices & Innovative Solutions for Workforce Success" on Friday, November 16th, 2018 at Irvine Valley College in Irvine, CA
CPA is California's leading organization providing professional development and training to career and employment services professionals.
Who should attend? If you work in career services, job placement, job development, career center, disability services, veteran's services, one-stop center, worksource center, human resources, recruiting, talent acquisition, talent management, staffing, or related field, this is the event for you!
---
Pay less for events - become a CPA Member! Visit http://calplacement.org/membership-and-benefits