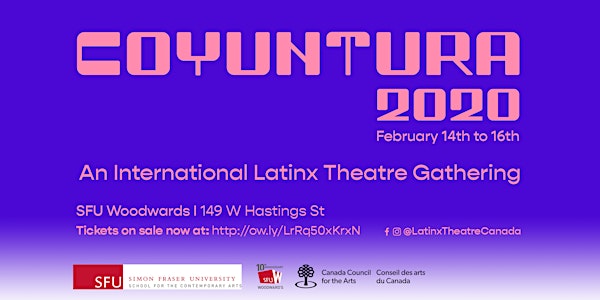 Coyuntura 2020: An International Latinx Theatre Gathering
When and where
Location
SFU Goldcorp Centre for the Arts 149 West Hastings Street Vancouver, BC V6B 1H4 Canada
Description
The Canadian Latinx* Theatre Artist Coalition (CALTAC) and SFU Woodward's Cultural Programs (SFUW) are excited to invite you to our inaugural Latinx international theatre gathering, Coyuntura. From February 14th to 16th 2020, Coyuntura will gather theatre makers, administrators, and educators to celebrate, recognize, and envision the future of Latinx theatre practice in Canada. Workshops, facilitated discussions, and a free-form pitch session of Latinx works are interspersed with opportunities for Latinx theatre artists and their allies to meet, talk, and celebrate the launch of the Canadian Latinx Theatre Artist Coalition. The first gathering of its kind in Western Canada, Coyuntura is where veterans and new innovators meet; where discussions across difference and generations take place; Coyuntura is the moment where past, present, and future converge.
*100% of all ticket sales will go directly to the Unist'ot'en Camp Legal Fund*
**All our non Latinx allies are encouraged to attend**
***Información en Español al final de la página***
---
COYUNTURA FULL SCHEDULE:
FRIDAY, FEBRUARY 14th, 2020
Location: Vancouver Playhouse - 600 Hamilton St, Vancouver, BC
World premiere of Anywhere But Here by Carmen Aguirre
Pre-Show Artist Talkback with CALTAC
COYUNTURA 2020 Welcome Fiesta with DJ Don Pedro (after the performance). Hosted by CALTAC and Electric Company Theatre
For more info about the show please visit: https://www.electriccompanytheatre.com/show/anywhere-but-here/
---
---
SATURDAY, FEBRUARY 15th, 2020
Location: SFU Goldcorp Centre for the Arts - 149 W Hastings St, Vancouver
9:30-10am Café y Chisme
Start your morning with Café y Chisme! Join your fellow Coyuntura participants for coffee and refreshments as we assemble for the day's activities.
Room: World Art Centre (WAC) - SFU Goldcorp Centre for the Arts
---
10-11am Opening Ceremony - Land Acknowledgement & Welcome
Room: World Art Centre (WAC) - SFU Goldcorp Centre for the Arts
---
11am-12pm Keynote Speaker: Carmen Aguirre
Supported by the Greater Vancouver Professional Theatre Alliance (GVPTA)

Best-selling author, award-winning playwright, actor and activist Carmen Aguirre will kick off the first-ever Coyuntura and launch the Canadian Latinx Theatre Artist Coalition.
Room: World Art Centre (WAC) - SFU Goldcorp Centre for the Arts
---
1-3pm Panel: What is Latinidad?
Supported by Neworld Theatre
What and who does the umbrella term 'Latinidad' refer to? Can 'Latinidad' exist at the intersections of race, cultural background, and nationality? What does it mean to represent 'Latinidad' on stage? What do we call ourselves? What do we have others call us? And who gets to decide?
Panelists: Bárbara Santos, Barbara Chirinos, Evelina Fernandez, Juliette Carrillo & Lina de Guevara

Moderator: Donna-Michelle St. Bernard
Room: World Art Centre (WAC) - SFU Goldcorp Centre for the Arts
---
1-3pm Workshop: Movement with Carlos Rivera
In this workshop, multidisciplinary performing artist Carlos Rivera shares a look into his practice as a dancer, choreographer, and director. Basic knowledge of movement, dance or other movement expression is necessary
Room 4390 - SFU Goldcorp Centre for the Arts
---
3:30-5:30pm Conversation with Las Veteranas
Supported by Bard on the Beach
Join us in honouring and celebrating the pioneers of Latinx theatre. Las Veteranas hail from across Turtle Island, across theatre practice, and from across Latin America – and have come together during Coyuntura for a historic conversation about where we've come from, and where we're going.
Guests: Bárbara Santos, Beatriz Pizano, Marilo Nuñez, Evelina Fernandez, Lina de Guevara & Nancy Garcia Loza

Moderator: Joe Recinos
Room: World Art Centre (WAC) - SFU Goldcorp Centre for the Arts
---
3:30-5:30pm Talking Dramaturgy with Guillermo Verdecchia
Supported by Touchstone Theatre
Join Guillermo Verdecchia, award-winning playwright and Soulpepper's Head of New Play Development for a reflection on the practice of dramaturgy in English Canada with an opportunity for questions and discussion. Participants can be playwrights, directors, anyone with an interest in play creation or dramaturgy more specifically.
Room 4390 - SFU Goldcorp Centre for the Arts
---
---
SUNDAY,

FEBRUARY 16th, 2020

Location: SFU Goldcorp Centre for the Arts - 149 W Hastings St, Vancouver

9:30-10am Café y Chisme

Start your morning with Café y Chisme! Join your fellow Coyuntura participants for coffee and refreshments as we assemble for the day's activities.

Room: World Art Centre (WAC) - SFU Goldcorp Centre for the Arts
---
10am-12pm Cross-continental Chisme
This fast-paced and fun session will fill you in on the chisme from coast to coast. In 5 minute slots, you'll hear about projects, theatre companies, and individual artists making work by and for the Latinx community. Presentation slots will be given out first-come-first-served, so prepare your chisme and share your beautiful work with the community!
Host: Jivesh Parasram
Room: World Art Centre (WAC) - SFU Goldcorp Centre for the Arts
---
1-3pm Panel: Indigenous Identities in the Region Known As Latin-America
Supported by Playwrights Theatre Centre (PTC), Rumble Theatre, & Department of Canadian Heritage
This session is a facilitated conversation about mis/representation, erasure, and co-opting of Indigenous identities in 'Latinx' theatre across Turtle Island. The history of colonization in the region known as Latin America and the continued violence of Northern imperialism replicates itself in major and minor ways in 'Latinx' theatre. What is the way forward?
Panelists: Monique Mojica, Carlos Rivera & Joe Recinos
Moderator: Carmen Aguirre
Room: World Art Centre (WAC) - SFU Goldcorp Centre for the Arts
---
1-3pm Workshop: Playwriting with Nancy Garcia Loza
Chicago playwrights Nancy Garcia Loza shares her playwriting process and offer some insight into navigating new play development. No requirements for level of experience; folx from early, mid, to established careers are encouraged to attend. Community agreements will be set at the top of the session to carve a safe and respectful space. On a special note, folx that are interested in new play development and dramaturgy are encouraged to join, although this workshop will be steered more at writers and generating new work rather than how to workshop new plays. Participants need only bring a journal and something to write with.
Room 4390 - SFU Goldcorp Centre for the Arts
---
3:30-5:30pm Panel: Casting Latinx Identities
Supported the Arts Club Theatre Company
Across the country, Latinx roles frequently still continue to go to non-Latinx actors – why? In this conversation between directors, playwrights and theatre practitioners, we'll discuss the challenges and successes of culturally appropriate casting of Latinx roles, available resources for directors and producers, and the intricacies of Latinx casting.
Panelists: Marilo Nuñez, Guillermo Verdecchia, Pedro Chamale & Mercedes Bátiz-Benét
Moderator: Christine Quintana
Room: World Art Centre (WAC) - SFU Goldcorp Centre for the Arts
---
3:30-5:30pm Workshop: Theatre of the Oppressed with Bárbara Santos
Supported by Urban Ink
Coming all the way from Berlin, internationally acclaimed Brazilian artist Bárbara Santos shares her practice of Theatre of the Oppressed with Coyuntura participants. This workshop uses a feminist methodology developed over the last decade by a network of Theatre of the Oppressed practitioners in Latin America and Europe.

Room: 4390 - SFU Goldcorp Centre for the Arts
SPANGLISH BUDDY SYSTEM
Queremos eliminar barreras para Coyuntura 2020! Si estás interesadx en atender, pero te preocupa tu nivel de Inglés, podemos asignarte un Spanglish buddy durante los eventos de la Coyuntura (excepto los talleres). Comunícate con nosotrxs a este email: VOLUNTEER@CALTAC.CA y avísanos si necesitas asistencia.
We want to help eliminate barriers to experience Coyuntura 2020. If you're Interested in attending but worried about your English, we can pair you up with a Spanglish buddy for the Coyuntura events (except Workshops). Get in touch with us at: angiedp@gmail.com and let us know if you require assistance.
VOLUNTEER OPPORTUNITIES
If you are interested in volunteering for Coyuntura 2020 please email Angie @ VOLUNTEER@CALTAC.CA
---
ARTISTS' BIOS
Bárbara Santos is a Black woman, mother to Rodolfo, director, author, actress and Kuringa* from Rio de Janeiro. Bárbara became a Theatre of the Oppressed (TO) practitioner in 1990. She is the artistic director of KURINGA – space for TO in Berlin. She is also the director of the TOgether International Theatre Company and a member of ITI Germany (International Theatre Institute of UNESCO). Bárbara is the author of Roots and Wings of Theatre of the Oppressed; Percursos Estéticos, Abordagens Originais Sobre o Teatro do Oprimido (Aesthetic Paths, Original Approaches to TO); and Teatro das Oprimidas (Feminist TO). She worked for two decades with Augusto Boal – creator of TO. Bárbara is one of the creators of the Feminist TO aesthetic experience and the artistic director of the Ma(g)dalena International – Feminist TO Network.
*Kuringa (Curinga in Portuguese) is the term created by Augusto Boal to identify a Theatre of the Oppressed facilitator and specialist.
Barbara Chirinos enjoys programming and producing events. She was Curator and Producer of Battered Women's Support Services event: 40 Years Later, featuring Tarana Burke, founder of the #ME TOO Movement at Vancouver's Orpheum Theatre. She served as the Executive Director of the Granville Island Cultural Society, Gala Producer/Special Events and Facility Manager for VIFF/Vancity Theatre and Managing Director of the Vancouver Folk Music Festival. Barbara is Founder and Co-curator of the Vancouver International Film Festival/Film Centre's Black History Month film series. She co-founded (with Mexican artist Ari De La Mora) and produced the International Day of the Dead Exhibit and Tour on Granville Island. Barbara currently teaches Festival Management at Capilano University.
Beatriz Pizano (Actor/ Director/Playwright) is the founder and Artistic Director of Aluna Theatre. Over the last eighteen years, she has built Aluna into an international company, recognized for its unique approach to creation, its daring political work, its experimentation with multi-language productions, an international festival, RUTAS, and a national festival of works-in-progress, CAMINOS. Aluna's original productions have earned them 26 Dora Mavor Moore nominations and 11 wins. Beatriz has received: the John Hirsch Prize, the Chalmers Fellowship, the K.M. Hunter, a Toronto Critics award and a Dora and this year she was recognized as TD's 10 Most Influential Hispanic Canadians.
Carlos Rivera is an actor, dancer, choreographer, teacher and a director, originally from México City. He is Mixteco and Nahua Indigenous descent. Graduated from Mexico's City School of Dance and later attended the Center for Choreographic Research at the Mexican Fine Arts Institute. He had toured to South America and Mexico with his dance project Yumare Arte Escenico. He worked and collaborated for 16 years as Associate Artist for Red Sky Performance where he has the opportunity to choreograph and perform many of the company's productions, including: Caribou Song and Dancing Americas. He graduated from the Indigenous Residency Program at the National Theatre School of Canada.
Carmen Aguirre is a multiple-award-winning theatre artist and author, and Core Artist of Vancouver's Electric Company Theatre. She has written and co-written over twenty-five plays; Anywhere But Here is premiering at The Vancouver Playhouse in 2020. She is adapting Euripides' Medea for Vancouver's Rumble Theatre, and Moliere's The Learned Ladies for Toronto's Factory Theatre. Carmen is the author of the #1national bestseller Something Fierce: Memoirs of a Revolutionary Daughter (winner of CBC Canada Reads 2012), and its bestselling sequel, Mexican Hooker #1 and My Other Roles Since the Revolution. She has over eighty stage, film and television acting credits and is a graduate of Studio 58. Carmenaguirre.ca
Evelina Fernández writes about the U.S. Latinx experience. Her plays include several L.A. Times Critic's Choices including THE MOTHER OF HENRY , SOLITUDE , DEMENTIA and HOPE: PART II OF A MEXICAN TRILOGY. Other plays: A MEXICAN TRILOGY (LA Drama Critics Circle Award) published by Samuel French; LA VIRGEN DE GUADALUPE, DIOS INANTZIN featured in both the LA Times and the NY Times. PREMEDITATION (published in Encuentro 2014) She is commissioned by the South Coast Rep and is developing A MEXICAN TRILOGY for television with Imagine Entertainment. She is a founding member of the Latino Theater Company, her artistic family.
Guillermo Verdecchia is a writer of drama and fiction as well as a director, dramaturge, translator, and actor. He is the recipient of a Governor-General's Award for Drama and a four-time winner of the Chalmers Canadian Play Award, among numerous other awards and nominations. He is currently Head of New Play Development at Soulpepper Theatre in Toronto and teaches at the University of Toronto. His recent work includes an adaptation of the 12th C Persian poem, The Conference of the Birds, and directing the critical and popular success The Jungle at the Tarragon Theatre.
Joe Recinos (kab' lajuj b'atz' –twelve monkeys) was born and raised on Turtle Island with Maya roots from Iximulew (Guatemala). A creator, performer, advocate, and Harold Award recipient for the performing arts of T'karon:to, Joe's commitment to equitable and diverse practices within the arts has led them to speak at YouthREX and several other panels and publish articles with NOW, Intermission Magazine, and contribute to The Director's Lab book. A trained facilitator, Joe has delivered various works shops on diversity and inclusion with youth and communities across Ontario. A Humber Performance graduate, their extensive experience in the performing arts led them to found Creative Mafia.
Juliette Carrillo - A graduate of the Yale School of Drama, Juliette has directed critically acclaimed classic and new play productions including plays at Oregon Shakespeare Festival, Yale Repertory Theater, Mark Taper Forum, Denver Center and Seattle Repertory Theater. She is a recipient of several awards, including the prestigious National Endowment of the Arts/Theatre Communications Group Directing Fellowship and the Princess Grace Award. She was also chosen by Sundance Theater Institute to participate in the Sundance/Luma Foundation Theater Directors' Retreat in Arles, France. She is thrilled to be collaborating with Carmen Aguirre on two projects, Anywhere But Here and The Refugee Hotel.
Lina de Guevara - Chilean born director, actor and teacher. She trained in Instituto del Teatro (University of Chile), studied in Canada with Augusto Boal, Richard Fowler (Odin Theatre), and Judith Koltai. A specialist in Theatre of the Oppressed and Commedia dell'Arte, she's lived in Victoria BC, since 1976. In 1988 founded and was artistic director of PUENTE Theatre for 23 years. Directed plays about diversity and immigrant experiences including: "I wasn't born here", "Crossing Borders" and "Chile con carne". Other credits include: "The House of Bernarda Alba", "Mother Courage", "Letters for Tomas." Lina retired from PUENTE in 2011, freelances now as actor, storyteller, teacher and facilitator.

Marilo Nuñez is a Chilean Canadian playwright and director. She was the 2018 recipient of the Hamilton Arts Awards for Established Theatre Artist and was recently nominated for the Johanna Metcalf Performing Arts Prize. Her play Huinca was commissioned by Milagro Theatre in Portland, OR and will premiere this coming January. Currently a member of Natural Resources, Factory Theatre's playwright's unit for established writers, she was McMaster University's first Playwright-in-Residence in 2018. She was founding Artistic Director of Alameda Theatre Company, a company dedicated to developing the new work of Latinx Canadian playwrights. She has an MFA in Creative Writing from University of Guelph and is currently obtaining her Ph D. in Theatre & Performance Studies at York University. www.marilonunez.com
Mercedes Bátiz-Benét is a Mexican-Canadian multi-disciplinary artist, writer, and award-winning director. Productions of her work include Faust: Ignis Fatuus, Shining Through, Cruel Tears/Lágrimas Crueles, and as co-writer, The Umbrella, The Secret Sorrow of Hatchet Jack Macphee, The Erotic Anguish of Don Juan, and Gruff. In 2014, Mercedes won the Canadian Stage Award for Direction at the SummerWorks Festival with her play El Jinete - A Mariachi Opera, and in 2015 she was chosen as the Distinguished Alumna of the Faculty of Fine Arts at the University of Victoria. Mercedes is the artistic director of Puente Theatre.
Monique Mojica (Guna and Rappahannock nations) Actor/Playwright — Spun from the family-web of New York's Spiderwoman Theater, Monique's artistic practice mines stories embedded in the body in connection to land and place. She has created land-based, embodied dramaturgies and taught Indigenous Theatre in theory, process and practice throughout Canada, the US, Latin America and Europe. Most recent: Aunt Shady in The Unnatural and Accidental Women at the National Art Centre, the NAC Orchestra's I lost My Talk and Izzie M.: The Alchemy of Enfreakment which she wrote and performs. Upcoming: dramaturg for Kaha:wi Dance Theatre's Sken:en.
Nancy García Loza (she/her) is a self-taught pocha playwright rooted in Chicago, Illinois and Jalisco, México. Her audio drama BRAVA: a folktale con música launched Make-Believe Association's inaugural season this year (with mention from the The New York Times). She is currently under commission from: Goodman Theatre, Make-Believe Association, Chicago Dramatists, and Teatro Leyden. She served with the Alliance of Latinx Theater Artists (ALTA Chicago) since 2013, eventually serving as its Co-Creative Director from 2015-2019. As a Co-Creative Director, she helped launch Chicago's first ever ALTA Awards, as well as, El Semillero: Chicago's Latinx Playwrights Circle.
Pedro Chamale is a Latinx-Canadian theatre artist from Chetwynd British Columbia. He received his BFA in Theatre Performance from SFU, he then went on to form rice & beans theatre with Derek Chan. Pedro was the Artistic Resident at Neworld Theatre in 2014, the guest curator of the 2018 rEvolver Festival and was one of the playwrights at the 2019 Banff's Playwright's Lab with his latest play Made in Canada: an agricultural operetta premiering this May 2020. Pedro is a director, playwright, performer and theatre jack-of-all-trades. Selected Credits: Broken Tailbone (Night Swimming), Selfie, Bull (Rumble Theatre), Chicken Girl, Mis Papás (rice & beans), and Are We There Yet? (Neworld Theatre).
Christine Quintana is a playwright, actor, and dramaturg based on the Unceded Coast Salish Territories. She received the 2017 Siminovitch Protege Prize for Playwriting from Marcus Youssef, and was the Urjo Kareda Emerging Artist Resident at Tarragon Theatre, and is currently a Playwright in Residence at Tarragon Theatre. Christine has received a Dora Mavor Moore Award, a Jessie Richardson Theatre Award, and the Sydney Risk Award. Christine is a proud member of the Canadian Latinx Theatre Artist Coalition, and holds a BFA in Acting from the University of British Columbia
Donna-Michelle St. Bernard aka Belladonna the Blest is an emcee, playwright and agitator. She is a coordinator with the AdHoc Assembly, artistic director of New Harlem Productions, emcee in residence at Theatre Passe Muraille and playwright in residence at lemonTree creations. DM's main body of work, the 54ology, includes Gas Girls, A Man A Fish, Sound of the Beast, Salome's Clothes, The First Stone and Cake. She is quite nice, and also badass.
Jivesh Parasram (He/Him/His) is an award winning multidisciplinary artist, community activator, and facilitator of Indo-Caribbean descent(Cairi/Trinidad & Tobago). His work has played across Canada, and Internationally. Jiv grew up in K'jipuktuk (Halifax) and endeavours to split his time between T'karón:to and the Unceded Coast Salish Territories. In 2009 he co-founded the award winning collective Pandemic Theatre, and currently holds the position of Artistic Director for Rumble Theatre. Jiv was a member of the second cohort of the Cultural Leaders Lab with the Toronto Arts Council and the Banff Centre. His current research centres "Dharmic Dramaturgy" in approaching contemporary performance and social design.


We stand here on the unceded, unsurrendered, stolen territories of the Coast Salish People – the Musqueam, Squamish, and Tsleil-Waututh Nations. As members of the Latinx diaspora, we understand and have the lived experience of the lasting and profound impact of the violence of colonization. We stand in solidarity with the resistance, resilience, and resurgence of Indigenous peoples on this land, and with their continued stewardship of this place where we now gather. We stand with the Indigenous people of Turtle Island, of Abya Yala in their fight for sovereignty on their own ancestral territory. Hasta la victoria siempre!
ACCESSIBILITY
Wheelchairs -SFU Goldcorp Centre for the Arts is wheelchair accessible. Accessiblity information can be found here and visitor information including transit and food options nearby can be found here.
Financial - If the ticket price is a barrier to your participation, please reach out to us at hola@caltac.ca
INFORMACI

Ó

N EN ESPA

Ñ

OL
Coyuntura 2020: Una reunión internacional de teatro Latinx: Coyuntura 2020 sucederá del 14 al 16 de febrero del 2020, y reunirá a practicantes, creadores, artistas, administradores y educadores de teatro para celebrar, contemplar y visualizar el futuro del teatro Latinx en Canadá. Consistiendo de talleres, conversaciones y presentaciones informales de nuevos proyectos Latinx. Coyuntura es el primer evento de su clase en el Occidente de Canadá. Es un encuentro donde veteranxs e innovadores se unen y donde debates y discusiones atraviesan generaciones. Coyuntura es el momento donde el pasado, el presente y el futuro se conectan.
Café y Chisme: Empieza tu día con café y chisme! Únete a tus nuevxs compañerxs de la Coyuntura para tomar un cafecito mientras nos alistamos para las actividades del día.
Panel - Qué es Latinidad? (What Is Latinidad?): Para quién y a qué se refiere el término 'Latinidad'? Puede la "Latinidad" existir en dónde raza, nacionalidad y herencia cultural se intersecan? Qué significa representar Latinidad en el escenario? Que término podemos usar para referirnos a nosotrxs mismos? Cómo nos deben llamar los otrxs? quién decide?
Panel - El Casting de Identidades Latinas (Casting Latinx Identities): Por qué los papeles Latinxs siguen siendo asignados a actores y actrices no Latinxs en todo el país? En esta conversación entre directores, dramaturgxs, y practicantes de teatro, discutiremos los retos y los aciertos acerca del casting culturalmente adecuado de papeles Latinxs, recursos existentes para directores y productores, y las complejidades que existen al seleccionar actores y actrices Latinx
Panel - Identidades Indígenas en la región conocida como América Latina (Indigenous Identities in the Region Known As Latin-America): Esta sesión es una conversación facilitada acerca de la representación errónea y la historia borrada de las identidades indígenas en el teatro Latinx en toda la Isla Tortuga. La historia de colonización en la región conocida como América Latina y la violencia imparable del imperialismo del Norte se refleja en grandes y pequeñas formas en el teatro Latinx. Cómo podemos avanzar?
Panel - Las VeteranasAcompáñanos a celebrar y honrar a las pioneras del teatro Latinx. Estas veteranas vienen de todas partes de la Isla Tortuga, con diferentes prácticas en teatro, y desde toda América Latina. Ellas se unirán durante Coyuntura 2020 para darnos un recuento histórico acerca de nuestras raíces y nuestro futuro.
Chisme Intercontinental (Cross-Continental Chisme): Esta divertida y rápida sesión te pondrá al tanto con el chisme de costa a costa. En cortas presentaciones de 5 minutos, aprenderás acerca de nuevos proyectos, compañías de teatro y artistas independientes que están creando teatro, hecho para y por la comunidad Latinx. Las presentaciones serán asignadas en orden de llegada, así que prepara tu chisme y comparte tu trabajo con la comunidad.
Dramaturgia con Guillermo Verdecchia (Talking Dramaturgy with Guillermo Verdecchia): Guillermo Verdecchia es el encargado del desarrollo de nuevas obras de teatro en Soulpepper. Atiende este taller para explorar el proceso de dramaturgia de este escritor galardonado. Lxs paricipantes pueden ser dramaturgxs, directores
Taller - Teatro del Oprimido con Bárbara Santos (Theatre of the Oppressed with Bárbara Santos): Visitando desde Berlín, Bárbara Santos es una artista aclamada internacionalmente. En este taller, compartirá su trabajo y proceso sobre el Teatro del Oprimido con lxs participantes de Coyuntura.
Taller - Movimiento con Carlos Rivera (Movement with Carlos Rivera): El artista multidisciplinario Carlos Rivera comparte su visión y filosofía acerca de la danza, coreografía y dirección de escena.
Taller - Escribiendo guiones con Nancy Garcia Loza (Playwriting): Nancy Garcia Loza nos visitan desde Chicago para compartir su método de trabajo y cómo navegar nuevos guiones y nuevas producciones.
We acknowledge the support of the Canada Council for the Arts

SUPPORTERS: SFU School for the Contemporary Arts (SCA), SFU Woodward's Cultural Programs (SFUW), Playwrights Theatre Centre, Electric Company Theatre, Greater Vancouver Professional Theatre Alliance, Bard on the Beach, Arts Club Theatre Company, Neworld Theatre, Rumble Theatre, Touchstone Theatre, Urban Ink, Department of Canadian Heritage, Vancouver Latin American Cultural Centre