Description
You Are Invited!

Learn About Urban Farming and Enjoy Delicious, Local Food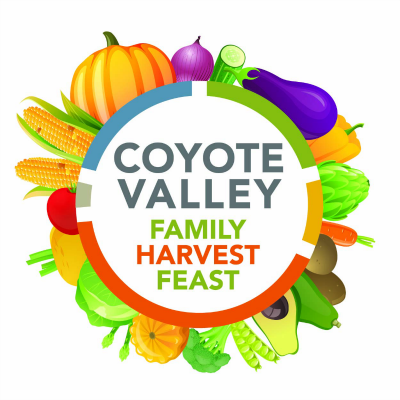 Join us on September 10, 2016, from 11 am to 3 pm, for the Coyote Valley Family Harvest Feast, a celebration of healthy, delicious, and farm-fresh food.
Get outside and celebrate the season with your family and friends. Enjoy the bountiful harvest of our local Santa Clara Valley farms and get tips for growing and preparing delicious foods. Want to start growing fruits and vegetables at home? Or introduce your kids to healthy foods? Get advice from expert local chefs, growers, and entrepreneurs.
This family-friendly festival will include:
Free admission

Tips on home gardening, farming & craft food


Cooking demonstrations led by expert local chefs

Food trucks featuring Santa Clara Valley-grown ingredients

Music & entertainment from around the world

Kid-friendly activities

Guided hikes through the scenic Coyote Valley Open Space Preserve. Coyote Valley features some of the last remaining farmland in Santa Clara County and vital habitat for endangered plants and animals.

Free parking on-site

Free shuttle bus service from San Jose
Come early as it may get hot in the afternoon. There will be plenty of shade and fresh drinking water available on-site. Please bring a refillable water bottle, wear sturdy closed-toe shoes, and bring a wide-brimmed hat and sunscreen.
More information will be posted here as it becomes available. Stay tuned!
FREE ROUND-TRIP BUS RIDES!

We will be offering round-trip transportation from the following sites. You can download a schedule of pick up and drop off times HERE. Please choose the location closest to you and contact the phone numbers listed below to register for a spot!
Asian Americans for Community Involvement, 749 Story Rd Suite 50, San Jose - Contact Hazel at 408-975-2730 x388

Sacred Heart Community Service, 1381 S 1st St., San Jose - Contact

408-754-4555




VTA Great Mall Main Transit Center, Great Mall Parkway near Main St., Milpitas - Contact 408-754-4555
Entertainment Schedule

11:15 am Akoma Arts & Drums – West African and African-American drumming and dance
11:45 am House of Inanna - Middle Eastern belly dancing
12:15 pm Wings of Hundred Viet Dance Company – Traditional Vietnamese dance
12:45 pm Mariachi Juvenil Alma de Mexico - Mexican mariachi music and dance
1:30 pm Andy Z – Kid-friendly music & comedy
2:15 pm California Nurpur Dance Academy - Traditional Indian dance
2:45 pm The Incident - Hindi rock band

Food Trucks (confirmed)
The Fish Taco Wabo

- Mexican

DUM Truck

- Indian

BBQ Kalbi

- Korean Fusion

Kiwanis Club - American, kid-friendly foods

Vitamina Juices & Blends - juices and smoothies made from fresh, natural ingredients


Kona Ice (Hawaiian shave ice)
Urban Farming Partners:
Veggielution

La Mesa Verde by Sacred Heart Community Services

Garden To Table
Thanks to Our Sponsors:
Bay Area Parent

Peninsula Open Space Trust (POST)

American AgCredit
Special Thank You to the Santa Clara Valley Transit Authority for use of the Great Mall/Main Transit Center