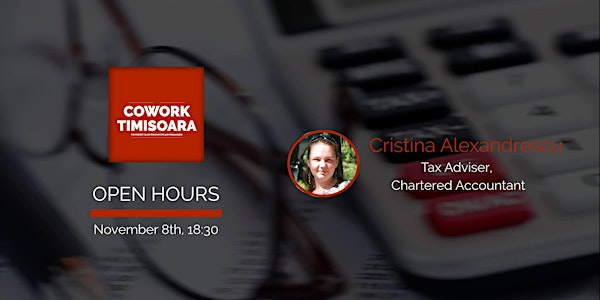 CoworkTM Open Office Hours - accounting with Cristina Alexandrescu
When and where
Location
Cowork Timisoara 300579 Timișoara Romania
Description
hello,
Open office hours or Mentor hours are a common concept accross the world in which experienced proffessionals offer consult for free in order to support the community.
We're starting the CoworkTM Office Hours with Cristina Alexandrescu from Rotax. Cristina has extensive knowledge in the accounting world both as an employed proffesional, and nowadays also for the business that she started.
There will be 4 x 20 minute time slots starting with 18:30 as follows:
- 18:30 - 18:50 Slo1
- 18:50 - 19:10 Slo2
- 19:10 - 19:30 Slot3
- 19:30 - 20:00 Slot4
Please make sure you arrive 10 minutes earlier. The discussions take place in Cowork Timisoara meeting room.
In case you can't attend anymore, please cancel the order to free-up the slot for somebody else.
See you!