Description
We were excited to announce we were coming to Cambridge with a brand new Alley powered by Verizon location. Now, we're here and we're kicking off an exclusive coworking week just for you before we officially launch!
During this private beta, you'll not only get a complimentary week-long opportunity to work out of our brand new location, but so much more. Here's your list of happenings for the week:
Monday @ 9:00am: Coworking Week Kickoff + Welcome Breakfast
Tuesday @ 6:00pm: Founder Meetup
Wednesday @ 5:30pm: Happy Hour and Classic Movie Night
Thursday @ 6:00pm: Meetup & Showcase
Friday @12:00pm: Catered Lunch + Coworking Week Wrap-Up
Saturday @ 7:00pm: Future Society Collective Concert

This will be July 17th to July 22nd. So, don't miss out! Bring your team and tell your friends, we'll see you there.
---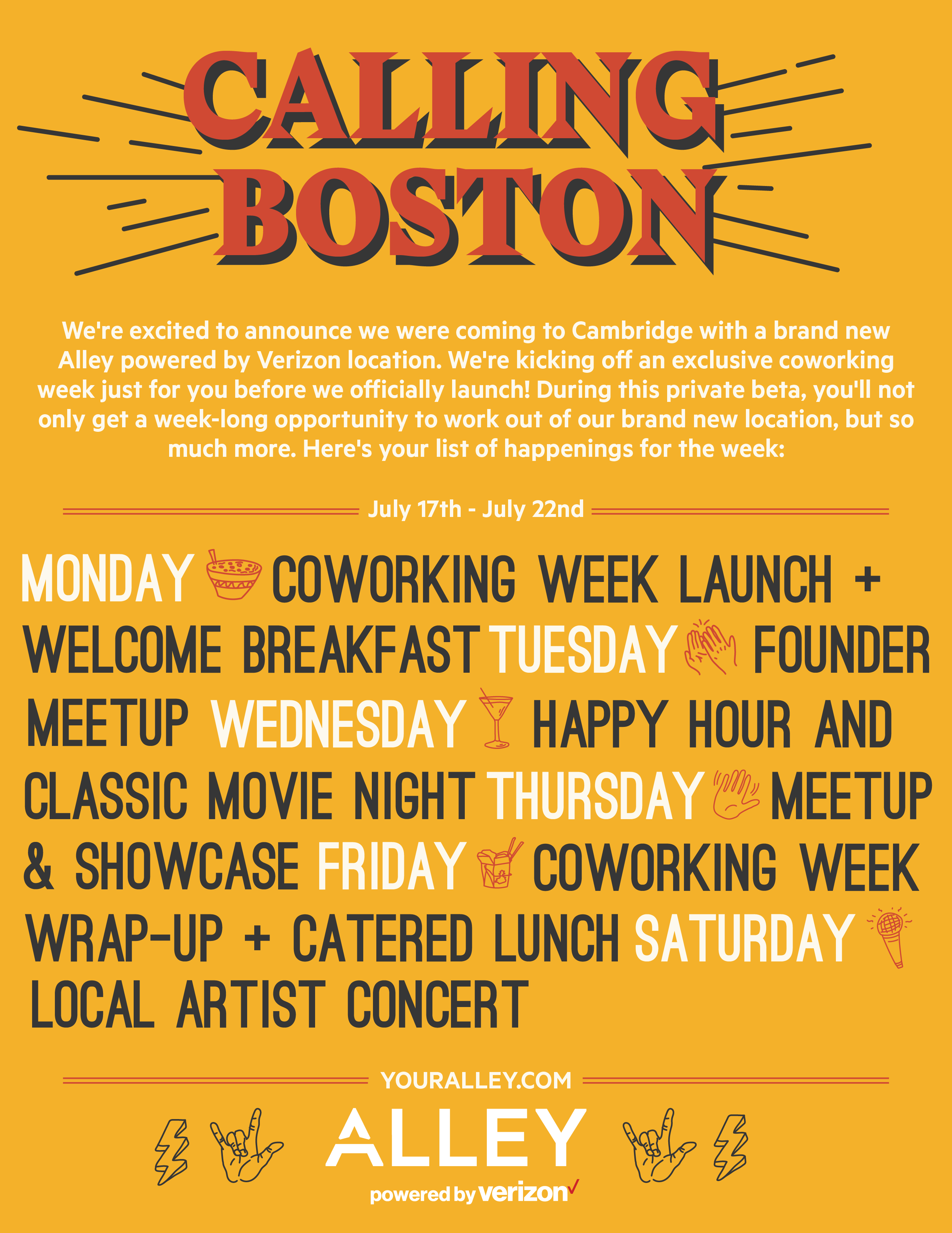 ---
About: Alley Cambridge is located in the heart of Cambridge. Steps away from Harvard Square and minutes away from MIT. Alley Cambridge is powered by Verizon, an influential leader in modern technology. Alley powered by Verizon locations are developed by Verizon, the world's leading telecommunications company, in collaboration with Alley, a membership-only community workspace for creators. Each location is a curated community powered by the emerging technologies and thought leadership of Verizon. With Alley, Verizon is bridging the gap between start-up and corporation by helping the community workspace build next-level ecosystems for entrepreneurs.