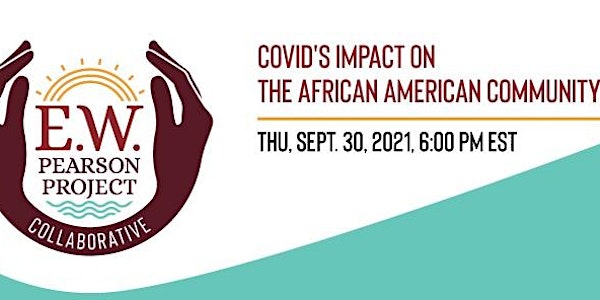 COVID's Impact on the African American Community
COVID-19 has had a significant impact of the lives of individuals within the African American Community locally and nationally.
About this event
According to the Center for Disease Control, "The COVID-19 pandemic has brought social and racial injustice and inequity to the forefront of public health. It has highlighted that health equity is still not a reality as COVID-19 has unequally affected many racial and ethnic minority groups, putting them more at risk of getting sick and dying from COVID-19." This phenomenon has been felt in the local Asheville and Buncombe County areas as well. The E. W. Pearson Project Collaborative is hosting a virtual webinar on Thursday, September 30, 2021, at 6:00 pm to discuss, "COVID-19 and the Impact on the African American Community."
The virtual event program will include information on COVID-19 and the effects of the virus as well as provide information on what efforts are being put in place to prevent and decrease the spread of the disease. There will representatives from the local health community, community members, and individuals who have been personally impacted by COVID-19 speaking on the issue.
This event is free to attend; however, individuals do have to register in advance.
The E.W. Pearson Project Collaborative is a formalized collaboration of historically African American neighborhoods and an educational nonprofit organization comprised of the following: Burton Street Community Association, East End/Valley Street Neighborhood Association, Shiloh Community Association, and Project Lighten Up Learning Academy.