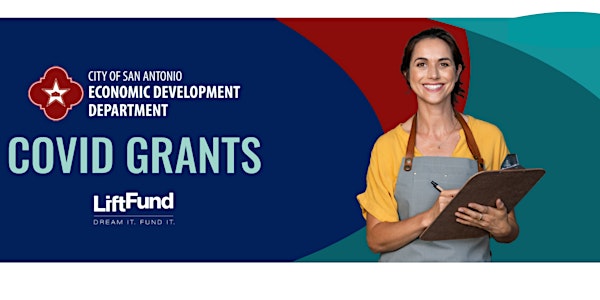 COVID Impact Grant Application Open Office Hours
CentroSA and the San Antonio Women's Business Center are here to help you apply for the City of San Antonio COVID Impact Grant.
When and where
Location
LaunchSA - San Antonio Central Library 600 Soledad St. San Antonio, TX 78205
About this event
Need help completing your business grant application? Let us help.
The City of San Antonio Small Business COVID Impact Grants Program will provide financial support in the form of grants to micro and small business owners who continue to be impacted by the pandemic to strengthen the San Antonio small business community. The program, funded by the City of San Antonio and administered by LiftFund, has dedicated $17,000,000 Million in funding to support for-profit small businesses with grants up to $35,000. An additional $10,000 construction impact supplement is available for those who qualify. This grant does not have to be repaid.
Applications will be accepted beginning Monday, August 1 at 10:00 AM through Monday, August 22 at 5:00 PM Central Standard Time. Only business activities categorized as one of these NAICS codes are eligible to apply.
Join CentroSA and the San Antonio Women's Business Center for help with completing the COVID Impact grant application. We will have staff as well as laptops and scanners available for your use during this process.
Robert Garcia - # CPAguy will also be available on the following dates:
August 1st, 1pm - 4pm
August 8th, 1pm - 4pm
August 11th, 1pm - 4pm
The Central Library offers free parking for up to three hours, just bring your parking ticket inside to be validated.
More details about this program, including eligibility, documents required, scoring methodology and timeline can be found HERE.
About the SA WBC
The Liftfund Women's Business Center is dedicated to supporting entrepreneurs, especially women and minorities.
The LiftFund San Antonio Women's Business Center is funded in part through a Cooperative Agreement with the U.S. Small Business Administration. This institution is an equal opportunity provider and employer. Reasonable accommodations for persons with disabilities will be made if requested at least two days in advance. Contact SA WBC Customer Service at 888.215.2373 ext. 3000 or wbc@liftfund.com.