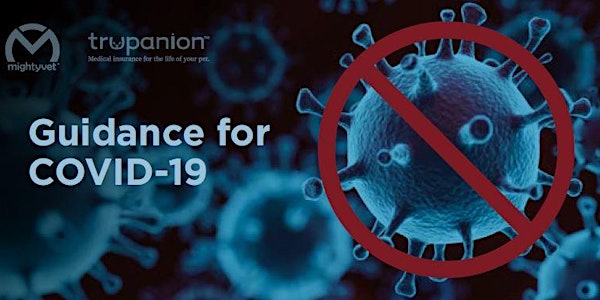 COVID Council Webinar: Updated Guidance for Veterinary Community Response
Join us for a follow-up to our March 25 webinar, where we will share updated guidance on the veterinary response to the COVID-19 pandemic.
About this event
You can watch the webinar live on the MightyVet Facebook page at facebook.com/mightyvet. Registering for this event will ensure you will be notified whenever COVID-19 updates become available. Be sure to add this meeting to your calendar so you don't miss it!
Speakers will include:
Jim Tedford, President and CEO for The Association for Animal Welfare Advancement and Certified Animal Welfare Administrator (CAWA)
Michael Lappin, DVM, PhD, DACVIM (SAIM); Chair, WSAVA One Health Committee
Julie Levy, DVM, PhD, DACVIM, DABVP (Shelter Medicine); Fran Marino, Endowed Professor of Shelter Medicine; Maddie's Shelter Medicine Program, University of Florida
Moderators:
Dr. Steve Weinrauch, BVMS, MRCVS; Chief Veterinary Officer, Trupanion; Founder, MightyVet
Carrie Jurney, DVM, ACVIM (Neurology); President, Not One More Vet
We would like to thank all the organizations who have made these webinars possible, including:
Trupanion | MightyVet | Blue Heron Consulting | Covetrus | Veterinary Practice News |The Association for Animal Welfare Advancement | Not One More Vet | The World Small Animal Veterinary Association One Health Committee | The American Association of Veterinary State Boards