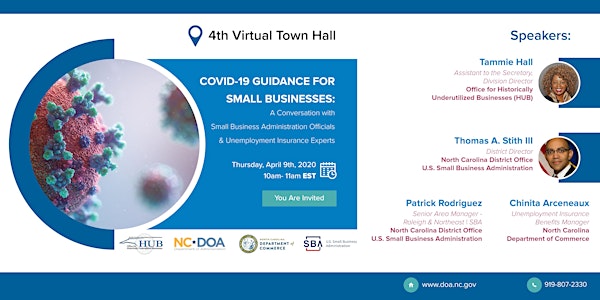 COVID-19 Virtual Town Hall with SBA and Department of Commerce
A Conversation with Small Business Administration & Unemployment Insurance Experts.
About this event
IMMEDIATE RESPONSE NEEDED
The HUB Office will convene the 4th Skype Town Hall teleconference call on Thursday, April 9, 2020 at 10:00 a.m. with guest speakers from the U.S. Small Business Administration (SBA) North Carolina District Office and the Department of Commerce to discuss Unemployment Insurance. The call is for business owners facing economic losses due to COVID-19 to review the process of applying for SBA Economic Injury Disaster Loans (EIDL) and a general overview of unemployment insurance.
Due to a high demand and limited capacity for virtual town hall calls, if you have participated in one of the previous sessions, we thank you. We are asking you to allow another business owner an opportunity to join the next scheduled call. We are requesting one representative per company.
The call will have an emphasis on minority and women-owned small businesses. Call capacity is limited to 250 firms. We will email the virtual call details to registered attendees on Wednesday afternoon for the meeting.