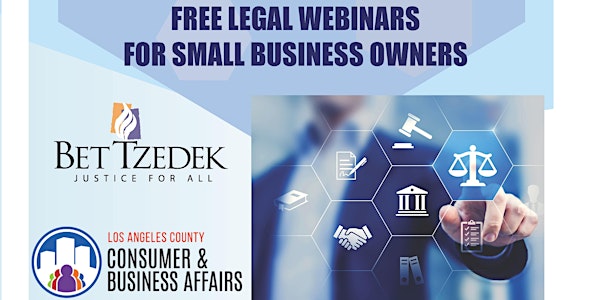 COVID-19 Vaccines and Small Businesses: What Employers Need to Know
What Small Business Employers Need to Know NOW About Covid-19 Vaccinations and the New California Family Rights Act
About this event
This webinar will address the impact of the availability of Covid-19 vaccines on small businesses and the relevant considerations for employers. It will also provide tips on workplace strategies and managing employee expectations, with a focus on the laws that govern employer responsibilities.
Attendees will also have the opportunity to sign up to be screened for pro bono legal representation and will be given information on applying to Bet Tzedek for free legal services related to the impact of COVID-19 on their small businesses.
Our Small Business Legal Webinars are free events bringing together top lawyers to present on pertinent legal areas for LA's COVID-19 impacted small business community.