COVID-19 Vaccine Safety for Rare Disease Patients - Ask the Experts
About this event
We are incredibly excited to present to you an Ask the Expert Session on the topic of Covid-19 Vaccine Safety for Rare Disease Patients, specifically focusing on the Indian scenario.
The aim of the event is to raise awareness and address concerns regarding COVID-19 vaccination in patients with rare diseases and create a platform where they can seek reliable information from experts in the field.
The discussion will be moderated by Dr. Harsha Rajasimha, Founder and Chairman of IndoUSrare and Dr. Reena Kartha, Board Director of Research Programs at IndoUSrare
Meet the Experts:
Dr. Madhulika Kabra is Professor at the Division of Genetics, Department of Pediatrics, All India Institute of Medical Sciences, New Delhi.
Her many accolades include being the recipient of the Dr IC Verma Life Time Achievement Award of ISHG -2016, and the Dr IC Verma SIAMG Outstanding Scientist Award -2017. The Genetics Division she leads is a WHO CC, and has been designated a Centre Of Excellence (COE) for Rare Diseases by the Ministry of Health, Government Of India. She is a member of the ICMR Task Forces for Human genetics,Inborn Metabolic Disorders, and Lysosomal Storage Disorders. She has to her credit around 250 publications in indexed Journals.
Prof (Dr) Narendra K Arora is the Executive Director, The INCLEN Trust International, New Delhi, India
Dr. Arora is a physician (MBBS, MD (Pediatrics)) and a public health specialist (MMSc Clinical Epidemiology) who has made seminal contributions to research to policy and program translations. He has over 200 peer reviewed scientific publications is an author in over 40 books. He is the Chairperson of the NTAGI Working Group for COVID-19 Vaccine, and a Member of the Global Advisory Committee for Vaccine Safety (GACVS), WHO. He is also a Member of the WHO COVAX Independent Allocation of Vaccines Group (IAVG), and has served as Co-Chair of WHO-SAGE (Strategic Advisory Group of Experts, Immunization).
About IndoUSrare:
IndoUSrare builds collaborative bridges between the West & the East to accelerate clinical research. A non-profit 501(c)(3) tax-exempt organization for connecting Asian-Indian diaspora affected by RARE diseases with global clinical trials. https://indousrare.org/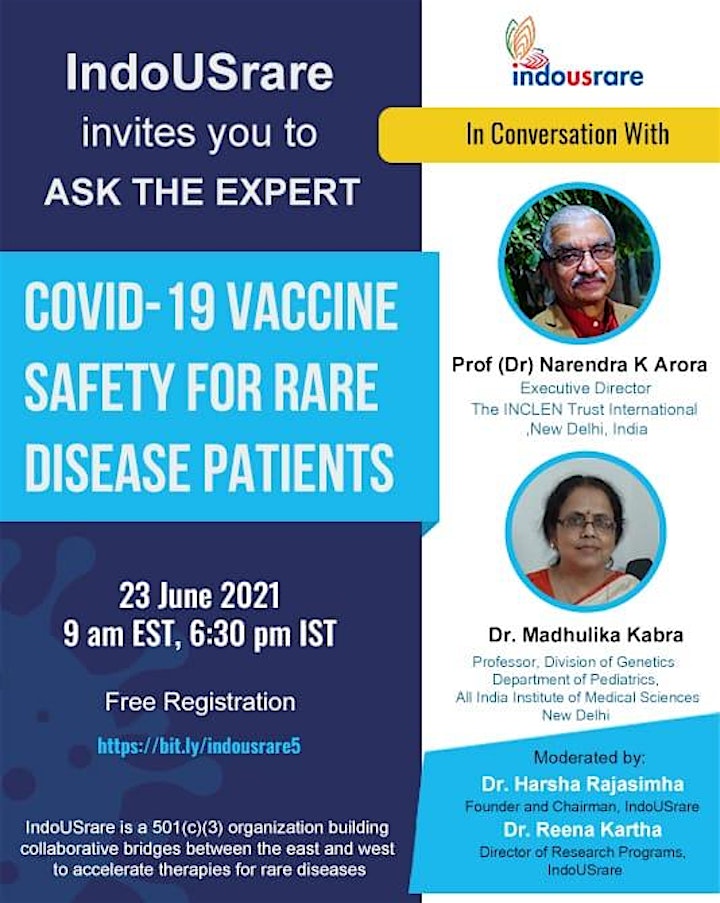 Organizer of COVID-19 Vaccine Safety for Rare Disease Patients - Ask the Experts