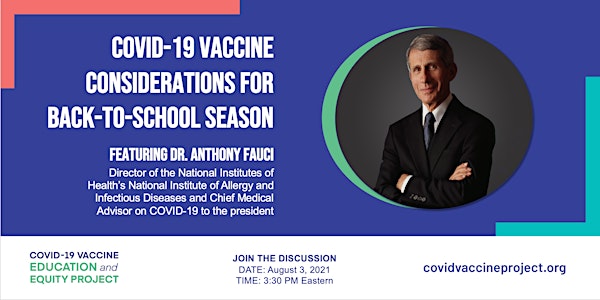 COVID-19 Vaccine Considerations for Back-to-School Season
Join our upcoming webinar on COVID-19 vaccination for adolescents and learn why vaccination should be on your school-ready checklist.
About this event
With children 12 years of age and older eligible for COVID-19 vaccination and families gearing up for the start of a new school season, the COVID-19 Vaccine Education and Equity Project is convening a webinar intended to answer commons questions and provide parents with the information they need on COVID-19 vaccination for adolescents.
Confirmed participants include:
Dr. Anthony Fauci, Director of the National Institutes of Health's National Institute of Allergy and Infectious Diseases and Chief Medical Advisor on COVID-19 to the president
Dr. Peter Marks, Director of the Center for Biologics Evaluation and Research (CBER) at the Food and Drug Administration
Dr. Lee Savio Beers, President of the American Academy of Pediatrics, professor of Pediatrics and the medical director for Community Health and Advocacy at Children's National Hospital
Linda Mendonça, DNP, RN, PHNA-BC, NCSN, FNASN, President of the National Association of School Nurses
Sue Peschin, President and CEO of Alliance for Aging Research and co-convener of the COVID-19 Vaccine Education Equity Project will moderate the discussion.