COVID-19 testing for New Trier Township School Districts
About this event
New Trier Township School Districts is partnering with NorthShore Clinical Labs to host on-site COVID-19 testing for the community.
Testing is being conducted by Northshore Clinical Labs based out of Chicago.
Dates: April 2nd, 3rd, 4th & 10th - 8:00 a.m.- 8: 00 p.m.
Test Details:
RT-PCR - simple nasal swab testing.
Results are reported within 24-48 hours of testing via email and phone.
Insured persons must bring their insurance card(s). There is no out-of-pocket expense (no co-pay).
If you do not have insurance please provide a state-issued photo ID (or SSN). There is no out-of-pocket expense .
All minors must be accompanied by a parent or guardian. If not accompanied by a parent or guardian, then a minor consent form is required. (Minors need to fill out minor consent form below).
All testing information is confidential.
Please fill out a lab requisition form below.
Please note: we are anticipating a large turnout, accordingly please arrive during your scheduled time slot and promptly after your testing.
*Per the CDC guidelines people who have tested positive for COVID-19 within the past 3 months and recovered do not have to get tested again as long as they do not develop new symptoms.
Location: Marie Murphy School - Gymnasium
Please adhere to social distancing guidelines while on-site and please wear masks while on the premises.
If you are unable to make your scheduled time, please cancel your registration to avail the time slot for others. You may cancel a registration directly through Eventbrite. Please note that your appointment permits you to visit any time during the selected half hour.
Should you have any questions or have accessibility needs, please contact Northshore Clinical Labs at (773) 570-6510, customerservice@northshoreclinical.com.
Laboratory Requisition Form Instructions:
Please right click on the image below and select "Save As", then print and complete the form as follows:
Please legibly complete each highlighted field. Each participant should bring a completed laboratory requisition form to their testing appointment.
For uninsured individuals, please write your state issued ID number or SSN in the designated fields.
The phone number and email address provided will be used to report results.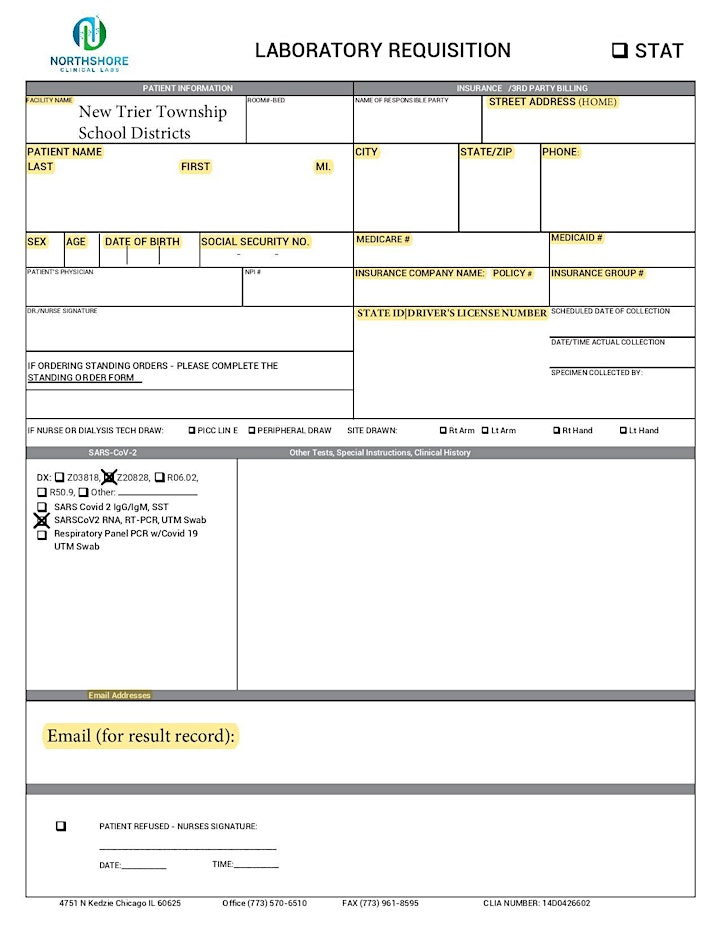 *Minors not accompanied by parent or guardian: Please bring a completed minor consent form to your testing appointment. Provided below.