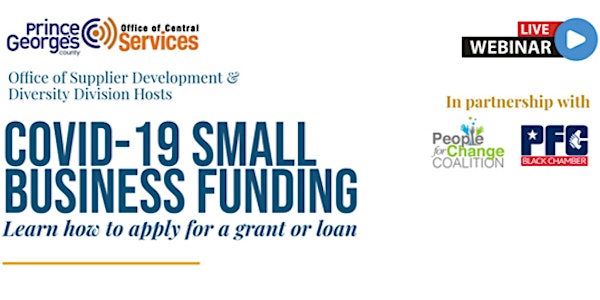 COVID-19 Small Business Funding Webinar
Webinar on small businesses applying for grant or loan
About this event
The Prince George's County Office of Central Services, Supplier Development & Diversity Division hosts the PFC Coalition and PFC Black Chamber to offer a series of webinars to help our small businesses impacted by Covid-19 navigate through this process as they re-open their doors.
The series of workshops are designed to provide technical assistance and guidance as we support our local business community.
All workshops are open to Prince George's County Businesses and we ask that everyone register online to attend as spacing is limited.
The webinar series will begin on Thursday, June 25, 2020 - August 2020.
The first webinar is a technical assistance workshop for small businesses & independent contractors.
Two of the main points which will be covered during the webinar are:
1. Paycheck Protection Program (PPP) - Deadline is June 30
2. Economic Injury Disaster Loan (EIDL) You also may be eligible for up to $10,000 in grants
The webinar link will be emailed to all participants after they register.