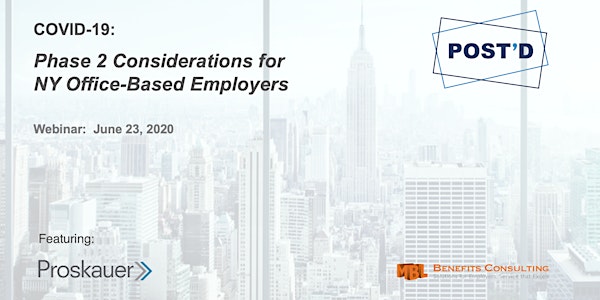 COVID-19: Phase 2 Considerations for NY Office-Based Employers
Join us for an update on theCOVID-19 "NY Forward" state plan and a Q&A session with the COVID-19 Employment Law Task Force at Proskauer.
About this event
The "New York Forward" state plan has created many questions and concerns for employers. As the state prepares for Phase 2 of the plan, office-based employers will be allowed to begin reopening. To begin this process employers must also adhere to new requirements around:
Screening
Communications
Social distancing
Other obligations
Employers are also required to prepare and post a Business Safety Plan. We will address these, and other, requirements during this live, interactive program.
This discussion will be led by Harris Mufson, Partner, Proskauer and Evandro Gigante, Partner, Proskauer and is being sponsored by MBL Benefits Consulting.
____________
About the Post'd People Group:
‍The Post'd People Group is a national HR network founded by a group of women who have built their careers in people operations. The group meets over casual dinners or breakfasts to discuss timely and relevant industry topics. www.keepmepostd.com #postdpeople #humansfirst #comingtogether