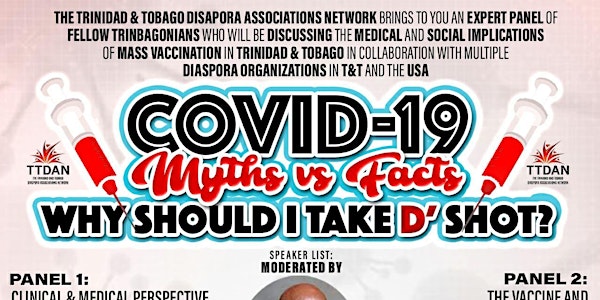 COVID-19 Myths vs Facts- Why Should I Take D' Shot?
A dynamic panel discussion to address the myths associated with the COVID-19 vaccine and the facts to help inform each individual's choice.
About this event
TTDAN and its collaborative partners from the diaspora believe, that with the USA arranging to donate vaccines to our country of birth, this is the opportune time to address the myths and misinformation by way of this educational presentation. Your knowledge, experience and contribution can play a major part to help change minds.
To overcome the hesitancy to take the vaccine, the Committee has convened a team of knowledgeable health care professionals based both in Trinidad & Tobago and the USA, presenting two thoughtful and informative panel discussions. The first panel will focus on the "Clinical and Medical" perspective of COVID-19 and the vaccine followed by the second panel addressing " The Vaccine & Social Impact."
The panel discussions will be moderated by Dr. Lloyd Webb and are as follows:
Panel 1- Clinical & Medical Perspective of Covid-19 and the Vaccine:
Dr. Safiya Ransome , Dr. Joelle Simpson & Dr. Ray Agard
Panel 2- The Vaccine and its Social Impact:
Dr. Safeeya Mohamme, Dr. Michele Monteil & Bishop David Ibeleme