With the uncertainty brought on us by covid-19, this is an opportunity to learn and understand how changes to mortgage rules affect you
About this event
What to expect
This session will highlight all government changes that have been enacted since the rise of covid-19, what this means to you as a prospective property owner, a landlord and a current home owner.
This is an opportunity for you to ask any questions you have on mortgages in relation to this pandemic and what the future of mortgages look like.
Topics to cover
- What are the changes to mortgages since covid-19
- How does it affect those intending to climb the property Ladder
-How does it affect homeowners
-How does it affect Landlords
- Should you take advantage of the drop-in property price & low interest rates and get on the property ladder now?
This event is free of charge as we would like everyone to get the opportunity to gain knowledge during these unprecedented times but registration is required.
Please Note:
By taking part in this event, you grant the event organizers full rights to record use this and any reproductions or adaptions for marketing, publicity or other purposes that help achieve the group's aims. This might include (though not limited to) the right to use them in their online publicity, social media, press releases and funding applications.
If you do not wish to be recorded, please contact the event organizer before registering.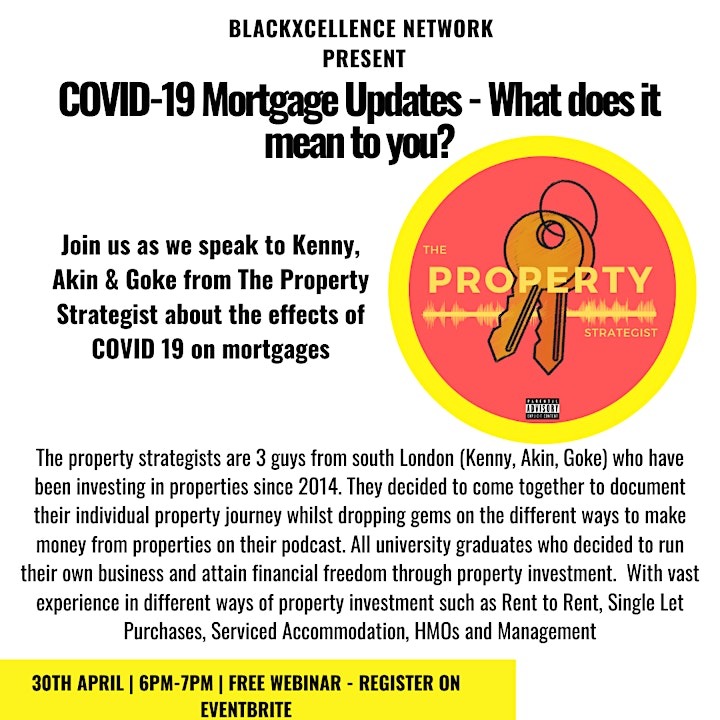 Organizer of Covid-19-Mortgage updates- What does it mean to you
BlackXcellenceNetwork is a networking hub for millennials in the UK
Aim and Vision- The aim is to help empower and inspire millennials in breaking grounds and seeing beyond limitations. It will provide a safe platform where social issues will be addressed and serve as a source of information pool.
BlackXcellence Network was birthed as a result of the passion to see everyone successful and help the millenials in our community jump hurdles.  We recognise that we are all work in progress and also recognise that there is strength in community coming together to provide help and information for ourselves.
Our aim as a network is to ensure we act as a platform that would provide industry expert contact to all those who need it. We are looking to pool information and make it available easily in our community. We aim to empower and inspire millenials to break grounds and become more successful. We will provide a safe platform where social issues will be addressed and we will aim to bring information to our community for easy access. 
We have also identified a lot of gaps in terms of the help and support that is available on excelling and resolving social issues.
We strive to empower our community and to drive for inclusion and diversity in the UK. 
We pride ourself in knowing that we are here to provide a platofrm of comfort and information pool.