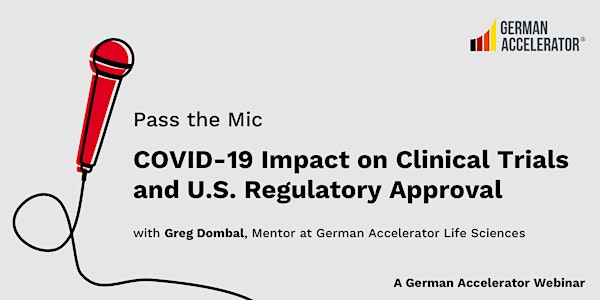 COVID-19 Impact on Clinical Trials and U.S. Regulatory Approval
Pass the Mic - COVID-19 Impact on Clinical Trials and U.S. Regulatory Approval - A German Accelerator Webinar
About this event
Learn from German Accelerator's experienced regulatory mentor, Greg Dombal, how to navigate the impact of COVID-19 on clinical trials and FD. We will provide answers on how startups can mitigate their risks around trial integrity, safety of trial participants, and other relevant issues. During the session, we will also highlight opportunities, such as the FDA's recently announced special emergency program for possible therapies, the Coronavirus Treatment Accelerator Program (CTAP). This webinar will be moderated by Marc Filerman, Program CEO German Accelerator Life Sciences.
About Greg Dombal
Greg joined Halloran Consulting Group in 2007. He focuses on helping emerging companies navigate challenges in product development while establishing appropriate clinical, regulatory, and compliance structures. Greg represents clients to worldwide regulatory agencies and routinely functions as an on-demand Head of Regulatory, Clinical, or Development.
Greg pairs over 25 years' experience in worldwide regulatory affairs, quality assurance and clinical development with a willingness to challenge conventional, conservative approaches and find the best solution for each company and their products. Before joining Halloran, Greg was responsible for the regulatory, quality assurance, and clinical groups at ArQule. At its peak, the programs he was responsible for encompassed 17 clinical studies with annual budgets in excess of $25 million.
Over his career, Greg has successfully filed over 45 clinical trial applications (IND, IDE or equivalent), attended over 75 regulatory agency meetings, presented to multiple Advisory Committees and helped companies respond to Warning Letters, 522 Orders, and Clinical Hold notices. He has obtained Orphan Drug designation and/or Fast Track designation for fifteen individual products, successfully negotiated multiple Special Protocol Agreements, and has extensive involvement with NDA/MAA submissions resulting in multiple product approvals.
German Accelerator empowers German startups to scale globally.
We take high potential companies on a fast-paced learning journey in the world's leading innovation hubs at our locations in San Francisco, Silicon Valley, New York, Boston, and Singapore. German Accelerator provides mentoring from dedicated experts, access to our vast global network of business partners and investors, as well as free office space. Our programs are free of charge and highly customized to the participants' individual needs in order to help them enter international markets and succeed quickly. Since launching in 2012, German Accelerator has nurtured over 240 startups which have raised more than US$3 billion in funding so far. German Accelerator is run by German Entrepreneurship GmbH and is supported by the German Federal Ministry of Economic Affairs and Energy (BMWi).
Visit www.germanaccelerator.com for more information.