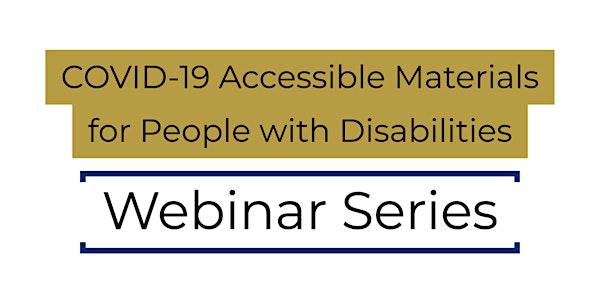 COVID-19 Guidance: Businesses and Employers and Disability Needs
A closer look at COVID-19 guidance for businesses and employers considering the needs of people with disabilities
About this event
A Closer Look: Guidance for Businesses and Employers Considering the Needs of People with Disabilities during COVID-19
As businesses continue to operate and/or reopen during the COVID-19 pandemic, there are many questions about how businesses can safely operate. The business model for many firms has been modified according to CDC guidance.
In this new way of conducting business, a key concern is how to also meet the needs of employees with disabilities that may be at higher risk as well as customers with disabilities. Join us for a panel discussion with disability leaders, business owners, consultants, and professionals as we explore issues and share strategies, solutions, and resources.
Presenters
Carolyn Phillips and Liz Persaud, Tools for Life | Center for Inclusive Design and Innovation | Georgia Tech
Pam Williamson, Southeast ADA Center
Learning Objectives
Upon completion of this webinar, participants should be able to:
Identify three (3) challenges people with disabilities face when visiting a business during the COVID-19 pandemic.
Describe three (3) solutions for challenges for people with disabilities may experience with shopping during the COVID-19 pandemic.
Identify three (3) resources for businesses to support the health of employees and customers with disabilities during the COVID-19 pandemic.
Participants in this webinar will qualify for CEUs through the AAC Institute and CRCs through the Commission on Rehabilitation Counselor Certification (CRCC).
**Registration for this webinar will close one hour before the live webinar at 1 p.m. EST on Wednesday, February 10.**
This webinar will be presented through Zoom and will be recorded and archived.
Organizer of COVID-19 Guidance: Businesses and Employers and Disability Needs