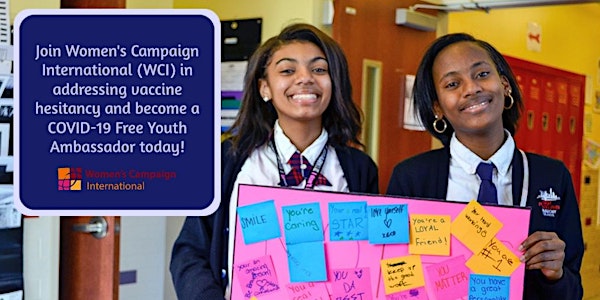 Covid-19 Free Ambassadors and Representatives (COFAR) Initiative
NOTE: This program is ONLY available for Philadelphia and Montgomery County high school and college students.
About this event
This opportunity is only open to high school and college students in Philadelphia and Montgomery Counties. To receive a $25.00 e-gift card, students must register with their school e-mail address.
Women's Campaign International is a Philadelphia-based nonprofit with 23 years of experience working with women leaders around the world. As agents of change, women and girls we work with learn to identify community issues, raise awareness, and engage key stakeholders. Since 1998, WCI has worked with more than 500,000 individuals in more than 45 countries to transform their communities.
We realized that this impact strategy is needed now more than ever, as COVID-19 vaccine misinformation and distrust, and difficulty coordinating access continue to inhibit our national efforts to end this pandemic. While racist health experiments in history and ongoing medical racism have led to valid multi-generational skepticism and fear in communities of color, particularly Black communities, distrust in vaccinations is apparent across all demographics. We must come together to reckon with history while providing people of all backgrounds with the accurate information they need to choose to get the COVID-19 vaccine when it becomes available to them.
Tapping into our youth engagement framework and building off of our COVID-19 programming in Kenya, WCI is now facilitating virtual trainings led by health professionals focusing on vaccination education. Through this initiative, WCI seeks to facilitate virtual webinars in partnership with health professionals and the Philadelphia School District to inform Philadelphia high school and college youth ambassadors of all gender expressions about the importance of the COVID-19 vaccine and train ambassadors in the advocacy skills they need to address this issue in their communities.