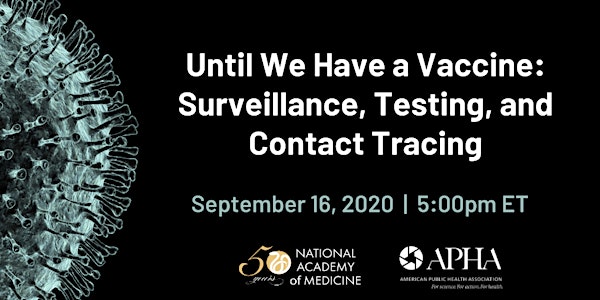 COVID-19 Conversations Webinar 14: Until We Have a Vaccine
This webinar will discuss COVID-19 containment, including disease surveillance, testing, and contact tracing.
About this event
The fourteenth COVID-19 Conversations webinar, scheduled for September 16, 2020 at 5pm ET, will discuss the many aspects of COVID-19 containment, including best practices for disease surveillance and outbreak identification, testing strategy and opportunities, and progress on contact tracing.
The webinar will begin with an introduction from the session's moderator, Karen DeSalvo, Chief Health Officer, Google, and then feature a conversation with a panel of experts, including:
Michael Osterholm - Director, Center for Infectious Disease Research and Policy, University of Minnesota
Martin Burke - May and Ving Lee Professor for Chemical Innovation, University of Illinois
LaQuandra Nesbitt - Director, District of Columbia Department of Health
The panel discussion will be followed by a Q&A session with the webinar audience.
This webinar series is co-hosted by the American Public Health Association and the National Academy of Medicine.
This webinar has also been approved for 1.5 continuing education credits for CPH, CME, CNE or CHES. To be eligible for continuing education credit, you must register with your full first and last name and you must watch the webinar in its entirety. Several days after attending the webinar, participants will receive an email on how to claim their credits.
The webinar will be recorded, and the recording, a perfected transcript, and speaker slide decks will be available at covid19conversations.org.
If you have any questions or topics you'd like us to address on future webinars, please email them to apha@apha.org.
The American Public Health Association champions the health of all people and all communities. We strengthen the public health profession. We speak out for public health issues and policies backed by science. We are the only organization that combines a nearly 150-year perspective, a broad-based member community and the ability to influence federal policy to improve the public's health. APHA publishes the American Journal of Public Health and The Nation's Health newspaper. At our Annual Meeting and Expo, thousands of people share the latest public health research. We lead public awareness campaigns such as Get Ready and National Public Health Week. Together, we are creating the healthiest nation in one generation. Learn more at www.apha.org.