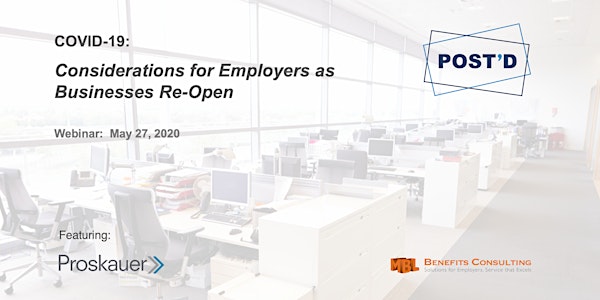 COVID-19: Considerations for Employers as Businesses Re-Open
COVID-19 has changed the workplace with many questions unanswered. Join us for a discussion addressing new considerations for employers.
About this event
COVID-19 has brought a "new normal" to our personal and professionals lives. The world is changed forever and what lies ahead for employers and the future of the workplace leaves many questions unanswered. How employees return to work and what employers should and must do to create a safe workplace are just a few of the concerns being raised as states and cities lift their stay-at-home orders and COVID-19 restrictions.
Please join us for a discussion led by Harris Mufson, Partner, Proskauer, and Alex Downie, Associate, Proskauer, addressing considerations for employers as businesses re-open. Some of the issues we will discuss:
- Phases of re-opening
- Return-to-office considerations
- Cleaning protocols
- Closing common areas
- Employee screenings, testing and questionnaires
- Social distancing protocols
- Steps to prevent transmission
- Response plan for infected employees
- Policy and handbook modifications
- Work travel
- Onboarding furloughed employees
- Preventing discrimination
The presentation will be followed by a Q&A session and is being sponsored by MBL Benefits Consulting.
____________
About the Post'd People Group:
‍The Post'd People Group is a national HR network founded by a group of women who have built their careers in people operations. The group meets over casual dinners or breakfasts to discuss timely and relevant industry topics. www.keepmepostd.com #postdpeople #humansfirst #comingtogether