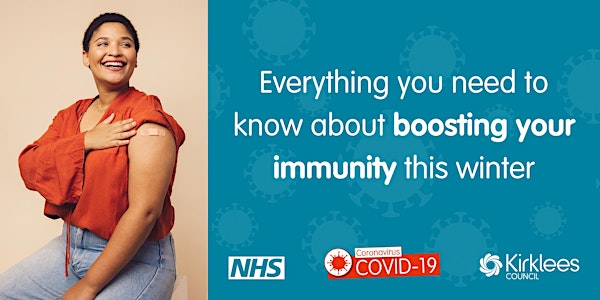 Covid-19 Autumn 2022 Booster Programme Briefing 06/10/22
Learn more about the Kirklees Autumn 2022 Covid and Flu Vaccination Programme and how to boost your immunity this winter
About this event
FREE Kirklees Webinar - Covid and Flu Vaccination Programme Autumn 2022
About this event
It's expected many respiratory infections, including COVID-19 and flu, will circulate at high levels this winter. In response to this the NHS have launched the COVID-19 autumn booster and flu jab programme. Being vaccinated against COVID-19 and flu will help everyone stay safe and well this winter. The winter vaccine programme will help:
• Protect older residents and people with health conditions.
• Reduce the risk of spreading infections
• Less people needing time off work because of sickness.
• Keep people well so they can continue to care for people who are older or have health conditions admissions.
The COVID-19 vaccination is offered by GP practices, community vaccination centres, and over 27 community pharmacies. There will also be pop-up vaccination sessions available across Kirklees.
We particularly wish to target participants who come into contact with low vaccine uptake populations, including: areas of high deprivation, ethnic minority groups, parents of 2&3 year old and those in at risk categories
The webinar will cover:
• What is the seasonal booster offer
• How to get a booster vaccination
• Booster for young people
• Timing of the booster
• Covid booster dose and flu vaccine
• Which covid booster will be offered
• Side effects
• If someone hasn't had all their vaccinations
• Who can have the flu vaccination
• Q & A session
The session will be delivered by NHS Health and Care Partnership Kirklees, Public Health and Pharmaceutical experts.