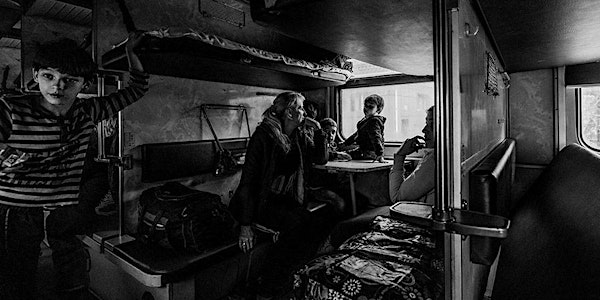 Covering the War in Ukraine: Artist Talk with Svet Jacqueline
Join us for an artist talk with documentary photographer Svet Jacqueline, who has spent the last year sharing stories of Ukrainian people.
Date and time
Tuesday, June 13 · 6 - 8pm EDT
Location
Leica Store & Gallery Boston 74 Arlington Street Boston, MA 02116
Agenda
6:00 PM - 6:30 PM
Reception
6:30 PM - 7:30 PM
Artist Talk
About this event
Join us for an artist talk with Svet Jacqueline, hosted in partnership with the Social Documentary Network.
Svet Jacqueline arrived in Ukraine just after the war started on February 24, 2022, to an endless visual display of innocent people whose homes and loved ones had become pawns in a fight for survival. The further into the country she traveled, the more severe the circumstances. She has now spent most of the past fifteen months dedicated to sharing the stories of Ukrainians affected by this conflict, specifically children. Her long-term project, "Too Young To Fight," was published in the most recent issue of The Social Documentary's ZEKE Magazine. Her other work from Ukraine can be seen in the photobook Relentless Courage: Ukraine and the World At War; Ukraine: A War Crime by Fotoevidence; and An Unnecessary War: Bucha and Beyond by All About Photo.
As a child orphaned at birth in Kirov, Russia, Svet's work explores the trauma of youths whose childhoods are divergent or unstable due to geopolitical circumstances outside of their control. An aftermath story is developing in real-time as the war continues. This event will provide insight into how she navigated working in a conflict zone as a first-time documentary photographer and what she will focus on as she prepares to go back for an extended period of time in the field.
About the Artist
Svet Jacqueline earned a Bachelor of Science in Photography from the S.I. Newhouse School of Public Communications at Syracuse University. For several years she did commercial work, freelancing for Sony Records and managing studios in Los Angeles, California. During the global pandemic, she began documenting the Black Lives Matter movement and published her first book, 100 Days of Protest. In 2021, she split her time between Los Angeles, Mexico, and Texas documenting migration at the U.S. border and the cycle of poverty on Skid Row. Her work won first place in the International Photography Awards and NPPA Best of Photojournalism. When Russia invaded Ukraine, she began focusing on visual stories around childhood trauma in conflict zones. She is a photo essayist in the book, Relentless Courage: Ukraine And The World At War and was a panelist on "Urgency: Ukraine" at The Bronx Documentary Center. All About Photo named her one of the best modern photographers in their September issue and CNN featured her as one of 12 women and nonbinary photographers capturing 2022. She has participated in the "Eddie Adams Workshop," and the "Missouri Photo Workshop" and received The Yunghi Grant for her ongoing work, "Too Young To Fight." She is available for new assignments on a freelance basis and is represented by ZUMA Press.
About the organizer
Leica represents a union of craftsmanship, design and experience. It is a beautiful collision of art and engineering, and the future of form and functionality. Leica Camera, headquartered in Wetzlar, Germany, is an internationally operating, premium-segment manufacturer of cameras and sport optics products. The legendary status of the Leica brand is founded on a long tradition of excellence in the supreme quality and performance of cameras and lenses, and the iconic images that artists and photojournalists everywhere captured with them. For more information visit www.leicacamerausa.com.